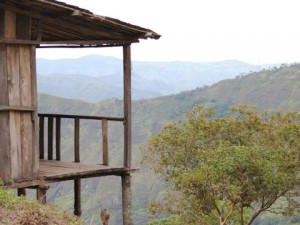 Waking up today was particularly difficult after the huge amount of sushi we had each ingested the night before, and when it came to breakfast the most we could muster was a few cups of delicious Colombian coffee! Anyway, soon after breakfast we had the van packed and we were ready to head off back to the MAC battery factory to pick up the SRZero.
It's always a nice start to the day to see the car in the morning with a full 100% state of charge in the battery pack, and today was no exception! We were expecting a long and very mountainous drive today, so we needed all the charge we could get. After saying goodbye to Diego we rejoined the Pan-American Highway and continued south on our journey to Pasto around 240 miles away and a good 1.6km higher than our present location.
By now, when it comes to talking about scenery, I'm sure I sound like a broken down record player. But the truth is that the scenery keeps on getting better and better! I honestly thought I had seen it all in Alaska and Canada, but really it's nothing to the kind of mountains and roads to be found here in Colombia. This is exacerbated by the climatic differences found at different altitudes; for example, within a distance of 50 miles we passed from lush tropical mountainsides through more temperate vegetation and then bottoming out in a desert replete with cacti and barren rock! All this a few degrees north of the equator…really incredible!
While passing through these amazing landscapes, we came across something quite unexpectedly. We stopped the car in a little lay-by on the side of the road to check an odd noise coming from the rear (it turned out to be a tie wrap hitting a cable; something that was easily rectified) when we noticed a zip wire that one could have a go on. This zip wire was like none other I had seen before; it stretched all the way to the other side of the valley, and one couldn't even see where it finished! It was so extreme that just looking at it made your heart rate double!
Normally, we are very keen to push on to avoid driving at night, but this was one opportunity we just couldn't afford to miss! So myself, Clemens, Chris and Cynthia each paid our $5 to zip across the valley, and it was truly an exhilarating experience! You travel down really fast and a very long way above the valley floor, and you come to a fairly abrupt halt at the end too, but it was worth every penny! Check out the hoots to see what I mean! After doing it we speculated why exactly there would be such a mode of transport in this place given the remoteness of the location and the difficulty in erecting it. We suggested it may be the remnants of some guerilla escape route so they could move quickly from one mountain to another if under attack…well, who knows?!
Aside from the quite breathtaking scenery and zip wire across the valley, the drive was fairly uneventful. The road surface quality was so so, not quite on par with the roads between Bogota and Cali, but nowhere near as bad as found outside Cartagena or Guatemala. However, this uneventfulness all changed just before sundown when the support van stopped to take some photos in the fading daylight, and the SRZero powered ahead solo into the night…
Toby and I were in the SRZero and we were getting scared. Prior to the drive, KPMG and others were telling us that this was a dangerous road and we shouldn't drive at night. Apparently this was prime FARC zone and just last week people had been robbed, so we were advised to travel the road during the day. However, the driving had taken longer than expected what with the zip wire stunt, and we had no choice but to drive the last couple of hours through the night. Anyway, we were sure that, like all the other nights we have driven, there would be ample traffic around which would keep things a little safer.
However, for some reason there was no traffic. Coupled with this, we were driving in a deep canyon and it was extremely dark, and the last piece of scare mongering came when we received a call from KPMG where, at 8 o'clock, Andres, Marie-Claire and Catalina were still in the office worried sick about us. They made it explicitly clear how scared they were for us and that we should please hurry up and get to Pasto! This made us feel very insecure and so we felt the safest thing we could do would be to find somewhere safe-looking to stop and wait for the others in the van.
We radioed to the van but no answer was forthcoming from the inky darkness. Furthermore, we began thinking something may have happened to the van, or we'd taken a wrong turning and a whole multitude of unpleasant scenarios poured forth from our imagination! However, a few minutes later, Clemens' very welcome German accent came across the airwaves and we were assured that they were close. Seconds later they came into view and we were reunited once more! As it happened, it turned out that the van had had their fair share of extreme experiences on the drive down, so we were all very happy to be together again!
The rest of the drive was pretty uneventful; nothing really to report as we couldn't actually see anything beyond the reach of our headlights. The last stretch brought us up to a toll booth where, on the other side, Sebastian and a whole convoy were waiting for us! A bunch of really cool people from the car community had brought a whole selection of their vehicles up to accompany us into Pasto, and so with the SRZero, van, bike and a whole consortium of rally cars, motorbikes and 40 year old land rovers, we headed for Pasto!
After a short while we arrive at our hotel and we were greeted by a local news channel and a small race car built by teenagers in this city. However, the amazing thing was that these kids come from nothing with no formal education in engineering, and very little resources at their disposal. But nonetheless, they were able to put together a really cool single seated track racer based on a 4 cylinder motorbike engine…extremely impressive! Seeing it drive was even more impressive as we were able to take it for a drive on the streets of Pasto! This was completely illegal of course, but the watching police didn't seem to mind too much at all!
The following few hours saw us put the car on charge in the garage of a local restaurant, eat in said establishment, and then head back to the hotel to thoroughly pass out! I don't think we had been more tired at any point in the trip, and it was great to be able to get 8 hours of sleep for a change!