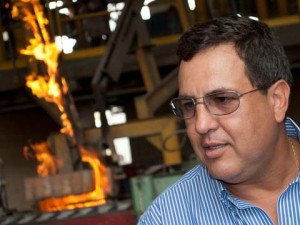 Today was another early start, but for an entirely different reason than normal for we didn't have a long distance to cover, but we did have a rather unusual event to get to. So after a delicious breakfast, we were back on the road and heading for Cali, Colombia's 3rd largest city after Bogota and Medellin.
The excellent road quality from the previous day's drive continued, but whereas before we were driving on twisty, mountainous and single lane roads, today's road was a beautiful straight dual carriageway taking us all the way to Cali. So good was the road in fact, that we were able to really open up the SRZero, and with the extremely relaxed approach taken to speeding in this country, we took her up to 162km/h, our software-limited maximum speed!
A highlight of the journey came unexpectedly when we stopped to refuel the support van, which needs a refuel almost as often as the SRZero! For some reason there was a whole gaggle of school children around, and they absolutely swarmed the SRZero, with more arriving all the time. They were in an absolute excitement frenzy, and this was only exacerbated when Toby took out some posters and started signing autographs. All of them were pushing to have a signed poster, and before long, some of their mums joined in the scrum too, and Toby was completely surrounded!
But we did have an appointment to get to, so we left the children amid cheers and waves, and we sped the remainder of our 220km journey. Our destination was completely unique; a battery manufacturing plant just outside of Cali where we had been invited for a tour of the plant as well as offered a place to store and charge the car overnight. At around 12.30pm we arrived, and were welcomed by MAC's Vice President, Diego Castro.
MAC is a producer of lead acid batteries, and we were keen to visit them not just from a personal curiosity point of view, but also to find out more about Colombia's efforts into EV technology. Too often we shun the idea of lead acid batteries powering commercially viable EVs as lithium ion technology is much more advantageous apart from the price (they are about 5 times more expensive than lead acid batteries right now). However, there are still many applications, both EV and otherwise, in which lead acids are used and in which they will continue to be used for many years to come, so we were very keen to find out about this as well!
As usual though, the SRZero needed attention before anything else was to happen, so we quickly put it on charge in their workshop. With this done, we could then go and satisfy our rumbling stomachs, and we were treated to a delicious lunch in the company's cafeteria. During lunch we had a chance to chat with Diego about the company in general, but the real story was to come after lunch…
In short, MAC was a company started by Diego's father in 1957. Originally they were in the business of refurbishing spent batteries from cars and trucks. Soon they decided to start building their own batteries, and before long they had absorbed much of their local competition, and today they build 3.5 million batteries a year making them the third largest producer in Latin America! It was the typical rags to riches story, with really tough beginnings for the family that started it; truly humbling!
After an explanation of how the company was founded, we went to see the production process right from the raw materials all the way through to a completely packaged battery. You may be wondering exactly what raw materials are needed for a lead acid battery, the type you typically find in your car for example. Well, in MAC's case, 100% of their raw materials comes from spent batteries. All the lead, water, acid and plastic is completely recycled such that one old battery can make one completely new one. However, as technology improves, the amount of lead needed in each battery to hold the same energy is reduced, and so for each old battery recycled, there becomes a surplus of lead which MAC are then able to sell…fascinating business!
We then moved on to the tour of the production line, and here we were truly amazed! On one side we saw dirty, leaky, broken batteries, and on the other side we saw brand new shiny ones! The process is in theory very simple, but as always, the devil is in the detail, and it was clear when looking at the machines how long it must have taken to calibrate each one so that the consistency and quality of each component can be assured. I would love to go into detail as to what we saw, but I fear that would take too long for me to write down! Suffice to say that at the end of the tour we were incredibly impressed with the company and what they are doing.
After the tour, we headed to our hotel in the centre of Cali and started on our daily digestion of emails and other administrative stuff. Cali, from what we saw, had a really great feel about it, and minutes away from our hotel were an abundance of bars and restaurants. By the evening we were sufficiently starving, so we headed to one such place where they were offering an all you can eat sushi deal, and we proceeded to thoroughly stuff ourselves on the delicious morsels!
Another successful and enjoyable day in our quest to conquer the Pan-American Highway! A big thanks to MAC and Diego for showing us around their fantastic facility and for giving us a very thorough insight into such an interesting industry.