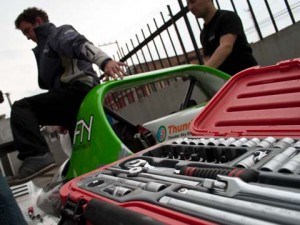 Well, it was that time of the trip again when we had to pack up our bags and move on to somewhere else. The road beckoned, and despite that fact that we all wanted to spend more time in this amazing city, we definitely needed to push on. We needed an early start as well because this was going to be one of the most challenging drives of the trip so far, and we didn't want to arrive in our destination too late. As always though, things don't work out as expected…
At 7.30am we arrived at the KPMG garage in order to pack the van (it always needs a full repack and tidy in the mornings) and to prep the car for its journey. Before leaving, the marketing department from KPMG who had helped us so much, namely Catalina, Marie-Claire and Andres, came to see us off over a delicious breakfast nearby. They also accompanied us out of the city to ensure we got the right road out, but before we could even leave the city boundaries, Toby noticed something wrong with the car.
It appeared that the voltage on the low voltage system was dropping and that the DCDC converter, which normally keeps this system at a healthy 13.4V, wasn't doing its job. With this component not working, we have perhaps half an hour maximum of driving before the voltage gets too low and the car shuts itself down. The last time we had anything which resembled this problem was in Canada, however, we knew the reason for that. At this point though, we could think of nothing that would cause a failure in the DCDC, so it was with a great deal of curiosity that we decided to pull into a petrol station to have a quick look.
The seat was very quickly removed, and with the voltmeter we started investigating the problem. It didn't take us very long to isolate the problem; the DCDC was in perfect working order, however, one of the cables going to it was broken. The interesting thing was that it couldn't be seen as the break was under some heat shrink and in between some inductors which were on this line. With the wire repaired, we found the low voltage system was up and running again.
As you may remember from yesterday's blog post, we had worked out that disconnecting the DCDC solved the starting up problem of the car. So, as we were fixing this misbehaving cable, the thought occurred to us that this may have been the cause of the starting up problem in the first place. Further investigation proved this theory to be correct, and we were very pleased that we had finally solved the one and only problem that we had so far been unable to fix! With this now fixed, we had renewed confidence in the car, so we put the seat back in and prepared to leave!
However, because of the drive we were scheduled to have today (more about this in a sec) I decided to check that our new fans were working correctly before leaving. But the fans didn't turn on, and for the second time that day we were confused. However, we were not to be deterred, so we quickly whipped out the seat (again) and prodded around some more. Our first hunch was correct; a blown fuse, so we swapped it for a new one and tried the fans once again. The fuse blew instantly, so we knew their must have been a short circuit somewhere. After taking off the rear bodywork, we noticed a small section of cable had chaffed away, allowing it to contact with the chassis and effectively causing a short circuit and thereby blowing the fuse. The problem was quickly rectified, the fans were tested, and we were good to go!
Despite the hold up, this pitstop was actually very useful. We had solved several problems extremely quickly, and it had taught us yet again that no matter how well you design something on the computer, there is so substitute for hands on experience! The car is so complex that no one can predict how it will behave under all the varying conditions we have put it through, but finding out the problems and working out how to fix them is immensely valuable to us as engineers hoping to make a career in this industry!
Anyway, with the car fixed it was time to head on down the road. We had long predicted that this road would be a challenge, and as we all love a challenge, we had each fought over who should drive it! Myself and Toby won, and it was he that took on the first half of the drive. This route was truly epic in nature; it starts out in Bogota at 2,500m above sea level, and rapidly descends down to sea level for a relatively long and straight section through the hot and humid lowlands. From here it very steeply climbs up to over 3,200m, high enough for snow to fall, before descending down over 1,500m into Armenia, our stop for the night! Given all these very steep inclines, you can understand why we were so keen to have the cooling fans on the radiator working correctly; anything less and the car would overheat.
The total distance was short, only about 280km, but with the terrain that we were to cross, and knowing how low average speeds can be on these squiggly mountain roads, we wanted to give ourselves the luxury of time; we didn't want to get stuck on this mountain in the dark…
The first half of the drive down to sea level was absolutely spectacular, and rivalled any of the scenery we have seen so far! The road was in excellent condition, traffic was very light, and we were able to make really good progress down into the valley. The weather was fantastic and the drive was going really smoothly. We allowed ourselves a quick stop for lunch before we were off again and heading for the highest point on our journey; La Linea! But as we hit the incline, even our worst case predictions proved optimistic…
For a start, the road was steeper and twistier than anything we had seen yet. In addition, the truck traffic was heavy, and as such our average speed dropped considerably. Often we were stuck behind trucks making speeds of no more than 8 or 9 miles an hour as we curved our way up the very steep mountain. Overtaking was particularly difficult as the corners were so sharp you could never see round them for anyone coming in the opposite direction, and the fact that there are so many trucks backed up that it's often difficult to slip back into your lane once having overtaken!
However, after some very tenacious driving, we made it up to the top of the 3,250m peak; the highest any of us had ever driven, and the highest point scheduled on our trip! We arrived in pitch black darkness, but it was all surprisingly undramatic as we couldn't see any view, and we very quickly started going down hill again.
We normally love going downhill as it means we can go fast and gain back some energy through regenerative braking. So when trucks and cars are normally using their gears rather than brakes to keep them going at a steady speed downhill, we are actually recharging the batteries! But with all the truck traffic, going down was barely faster than going up, however, overtaking was much faster, and so it wasn't long before we were able to make it into our hotel in Armenia at around 8.30pm. It certainly was a fantastic drive, right up there with the best, but for the drivers it had been incredibly tiring! Driving at night while trying to avoid trucks are just extra obstacles when driving this road even during a clear day is challenge enough!
So, with a very successful day behind us, the car on charge in the hotel garage, and us amply fed, we hit the sack hard! It was great to be back on the road with a fully functioning car, and we were looking forward to the next day which promised us yet another exciting drive!