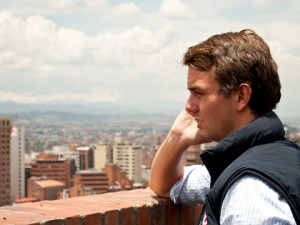 Today was a rather slow day, and was predominantly focussed around the discussion of whether or not it would be worthwhile staying in Colombia given the volatile situation in Ecuador. However, good news was filtering through and it seemed that the government was back in control, with the borders and airports being reopened. Indeed, contact with the British Embassy, KPMG and the university we will be visiting all independently confirmed that the situation was a lot calmer. On the back of these discussions, we made the decision to leave Bogota on Sunday morning.
The rest of the day was spent investigating odd behaviour on the car. While the car works perfectly when driving, we were a little mystified over some quite strange behaviour when starting up the car. On most occasions, the car starts up just fine, but sometimes it doesn't, and it's this inconsistency which caused us to be fiddling around until dinnertime. As you can see, the car doesn't work or not work; it's not as black and white as that as there are varying degrees of correct functionality! with the car still perfectly able to drive, we are not particularly concerned, but we are perfectionists and we want to know what's going on!
Unfortunately, due to all of this we didn't get to see certain things in Bogota that we really wanted to see. However, given how much we are all smitten with this city, we'll be back soon enough to fill in the dots!