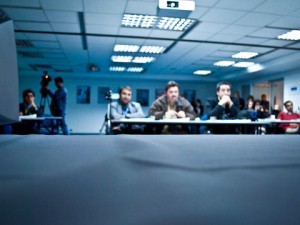 The previous blog ended with us going out into the city to explore some nightlife, and we were all pleasantly surprised by how fun a Wednesday night could be! Sebastian, a race car driver here in Colombia who is helping us out with a lot of things here, took us to a place called Quiebra Canto where they were playing really great music. The downside was the fact that it finished at 2am only, and even worse, we had to be up at 6am the next day!
After very limited hours of sleep, we were up today bright and early for the KPMG press day which was something we were looking forward to given the huge amount of interest in the project across Colombia. We had a press conference in the morning at the KPMG offices, followed by a presentation at the National University where we displayed the car amidst a huge crowd of students and staff. Here we were also accompanied by the local arm of National Instruments, another one of our major sponsors. This was perhaps one of the most enjoyable outreach events of the trip, and I was humbled to see how many people turned up to see the car and ask questions.
Just before we left the university, we were joined by the electric go-kart which students at this public university are building. It reminded us yet again that despite the low level of resources at this university's disposal, there are still strides being made in this field. Yes, they are not as advanced as equivalent student projects going on elsewhere, but they are making a promising start!
However, the main news of the day was not RGE in Colombia, but something far bigger with much more wide reaching consequences. The President in Ecuador was attacked by members of his police force in what is being called a coup d'etat. The situation as it currently stands is volatile with roads, airports and borders being closed. This means that at present, we can't cross into Ecuador, and if the situation worsens, we will not be able to cross the country. To the best of my knowledge, there isn't another way around the country into Peru, so we are going to have to wait and see what happens! At the moment, we are being advised to stay put in Bogota and wait until the situation becomes clearer…let's hope it's sooner rather than later!