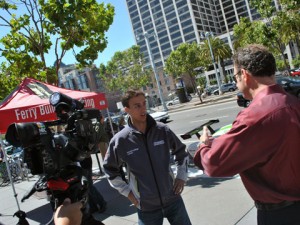 Firstly, before continuing with the blog, I have to once again apologise for falling behind with the updates. I have had many emails of support from you, our cherished readership, encouraging us to keep up the flow of news. We would like to thank you for this, and I want to assure you that we are doing our best to keep the blogs coming. The simple fact of the matter is that we are so busy with driving, media events, logistics, web updates and all our other commitments that at the end of the day, there is very little time for blog writing, much as we enjoy writing them. Anyway, right now we are in Austin, Texas for a few more days, and I fully intend to bring you all up to speed once again!
So, back to the real business! The last post ended with us heading off to sample the San Franciscan nightlife with our local host, Andy, who was an old school friend of Toby's. Before long we were soaking up the vibe at the Infusion Lounge; a quite European-style club with great music and scantily clad stage dancers. The team shook loose the last few days of driving, and danced until the club closed, which fortunately was not too late as we had much to do the following day.
There were 3 missions for the day; firstly, Nik and Andy were to take the car to the pre-arranged KPMG event where they were to meet some high level KPMG personnel, as well as visit Better Place, based in Silicon Valley. Next up for Clemens and myself was the unenviable task of arranging licence plated for our support vehicle, and lastly, Pambo and Toby were back at the hotel doing website updates and charging point research respectively.
Andy's KPMG account:
"The day started bright and early at 6:00am when Nik and myself got a cab over to Luscious Garage, where the SRZero had been charging overnight. It was still a little early for us and we missed breakfast, but luckily the KPMG team had laid on a sumptous buffet for the event. There were croissents, Krispy Kremes, and cakes galore – though we went straight for the coffee! Now suitably fuelled up, we met Kelly,  Steve, Beth and the rest of the KPMG team there and had a good 2 hours to show off the car to their employees.
After that we drove the car over to the Ferry Building near the Bay Bridge – a great location with a lively market inside and out. It was a decent turnout with the media as ABC and NBC came along to check out the car. – check out the video here: http://abclocal.go.com/kgo/story?section=resources/lifestyle_community/green&id=7570598
Then it was time for a half hour drive over to Silicon Valley to meet with Better Place. I had big expectations for Silicon Valley, and it was pretty cool to see the head quarters of Facebook and Google, but I have to admit that it did appear to be more like a normal industrial estate than the hotbed of technology that it actually is. Anyway, we were really excited to meet Better Place as they have tackled the range issue on electric cars from a completely different angle. They are pioneering a battery swapping system and the infrastructure to enable EVs to make longer journeys. Check out this video from Shai agassi here that explains it here, it's a great presentation: http://www.ted.com/index.php/talks/shai_agassi_on_electric_cars.html
We took them for a ride in the car and had a behind the scenes look at their upcoming plans for the Better Place movement – you will have to keep an eye out for them over the next couple of years, though unfortunately we did not get to meet Shai as 80% of the worforce were actually over in China! But it was still a great experience and we left enthused to see other organisations working hard to further electric vehicle technology."
Shortly after Nik and Andy headed off for the KPMG event, Clemens and I drove down to the local Department of Motor Vehicles (DMV) office to try and organise license plates for our support vehicle that had so far been running on a 10 day temporary permit issued while we were in Canada. To help guide us through this bureaucratic labyrinth, we met up with one of the unsung heroes of the RGE story; Boris.
We would still be stuck in Anchorage if it had not been for Boris, as he is the owner of the only insurance company that was prepared to insure us. Despite us approaching 35 different companies in order to procure insurance for the drive through the US and Canada, no one would agree to insure us. But then, on the day before we were set to start driving, he called up and gave us the good news!
Anyway, we met Boris at the DMV office, and he set about trying to get us some Californian plates. But it turned out to be far harder than expected. The DMV officials were rude and had no clue as to what we had to do, and so just tried fobbing us off to the customs department despite it having absolutely nothing to do with the transaction we needed to complete.
Hours passed as we were slowly moved up the hierarchy to people who thought themselves more important than the last, until we finally reach a Russian lady who was tempted into cooperation after Boris conversed with her in their native tongue. After several more hours, fortunately interrupted by a delicious and patience-revitalising lunch, we managed to obtain a temporary Californian licence plate. Something that could have taken us 30 minutes ended up in a 5 hour procedure, but finally we were done!
The downside, however, was that we were now too late to join Nik and Andy for the very interesting visits they were having at Better Place and HP. So instead we agreed a time and place for us to meet Boris for dinner in a few hours time, and off we headed on our separate ways. Over the next few hours, Clemens, Toby, Pambo and myself explored some of San Fransisco taking in sights such as Crookedest Street, the western hemisphere's steepest navigable road, and the beautiful views of the sparkling San Francisco Bay.
Before long however, it was time to go meet up with Nik and Andy who were by now back in the city, drop the SRZero off at the Luscious Garage, and head for dinner. Before heading for dinner however, we took the opportunity to give Boris's 10 year old son, a budding go kart driver, a quick spin around the city in the SRZero. Judging by the look on his face, it was a thoroughly enjoyable experience! A delicious and very enjoyable dinner followed, and after a few drinks at a local bar afterwards, we headed back to the hotel for some much needed sleep!
Day 25 dawned in the typical San Franciscan way; cold, damp, and cloudy. But that didn't dampen the team's spirits as we got down to some hard graft. Andy, Pambo, Clemens and myself stayed back at the hotel within reach of the internet to continue with our PR, website, logistics and organisational work respectively, while Toby and Nik went over to the garage to give the car a once over and to patch up the rear right tyre that had been pierced by a large screw. Other than that however, the car showed no signs of damage or untoward wear and tear, and so it was that by 5pm, with the car reassembled and the rest of the team present at the Luscious Garage, we received a visit from a collection of local EV enthusiasts. In addition, Jonathan Richards, a talented cameraman and editor from Von Planta Productions joined us at this time to help Claudio with the filming and editing for the next few weeks on the trip.
A couple of hours were spent showing the car to the very well informed EV supporters, some of them ex Imperial College alumni, and some sporting their own EV's too. But unfortunately time flies when you're having fun, and before long it was time for Caroline, owner of Luscious Garage, to close up shop, and for us to go and have dinner. If anybody is interested to hear about the umpteenth food-related excursion, we headed back into J-Town (slang for Japanese Town in case you didn't get that) for a shabu shabu, and from there headed back to the hotel for an early night.
And that concluded our last evening n San Francisco. It had been a very enjoyable few days, minus the hassle with the licence plates, but all had been sorted in the end, and it was with anticipation for the coming days that RGE bedded down for the night.