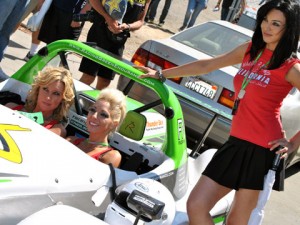 There were 3 very exciting things that were due to be happening today, and so it was an eager and keen RGE team that turned up at the Luscious Garage at 9am to pick up the SRZero. Just an aside, I should point out that it was now a Saturday, and Luscious Garage was actually closed. So how did we get in? I mention this extremely trivial point as it is just another example of the extreme kindness displayed to us by our supporters. The day before, Caroline, owner of Luscious Garage, gave us the key to her premises, and told her to just pop the key through the letterbox when we had locked up and left. This was such a trusting gesture, especially as she barely knew us, but it helped us tremendously, so thank you Caroline!
Firstly, the day saw the return of Rick Peterson, our biker companion between Fairbanks, Alaska, and Whitehorse in Canada. He had to take a sabbatical from the project in order to fly helicopter rescue missions in Hawaii, and we were excited to have him back in the game! So, off we set for our next big stop; a place where none of us had gone before, and where we had been especially invited by the guys from Zero Motorcycles…
Moto GP at Leguna Seca! We arrived on the second day of this legendary event and were invited to park our car alongside the Zero Motorcycles stand. Unfortunately we only had time to spend 2 hours here, but in that time we saw a number of very exciting car and motorbike related exhibits, and of course the warm up laps which saw motorbikes screaming around the 2.238 mile track at breathtaking speeds!
There were a number of perplexed looks at seeing an electric car at such a petrol-dominated event, but everybody was extremely pleasantly surprised to find that an electric car could look so appealing! But at 3pm, our time was up and we had to head off to the most anticipated part of the day…
Highway 1! Up until Leguna Seca, we had travelled down on Highway 1 from San Francisco to Monterrey, but this was not the most beautiful part of the highway. All sources informed us that it was south of Monterrey that the road took on its famous and spectacular twists, turns, and jaw-dropping vistas. We were not disappointed! On our left hand side, cliffs and mountains fringed the North American continent, with the occasional valley allowing us to glimpse inland, and on our right hand side just a few metres beyond the edge of the road lay the vast expanse of the Pacific Ocean!
The twists and turns of such a road may seem tedious in the support vehicle, but they were an untold delight to drive in the SRZero. Because of the wide wheel base, low centre of gravity and road-hugging aerodynamics of the SRZero, sharp turns could confidently be taken at speed, providing for an adrenaline fuelled drive all the way down to San Luis Obispo!
On the way, we stopped for a quick food/toilet break, and there we were informed by a local that we should look out for some elephant seals that were basking on the beach a few miles down the road. With several animal lovers on the team, we vowed to check them out, and a few minutes driving down the road revealed a large and occasionally writhing mass of grey blubber. These were the famed elephant seals, and a more lazy animal could surely not be imagined! On occasion, 2 belligerent males would "stand up", roar at each other, find that too tiring to continue, and then pass out. Similar passing out could be observed after one of the creatures made the occasional dash across the sand; 2 metres and a long nap was needed! A video of described behaviour can be seen in our videos section.
Anyway, we were still in a rush to get to our next destination so we quickly got back on the road. A few hours later we reached the campus of California Polytechnic State University (CalPoly) where we were to meet our hosts for this evening. Sure enough, a few minutes after arriving, Dan and several of his fellow students arrived to welcome us. After a quick show and tell of the car, Dan informed us that his professor had prepared food for us and had offered his home for us to sleep at. As it was 10pm already, we decided to quickly hook the car to charge (it was due to stay and charge up at the university's electric car charging point) and head off as soon as possible.
A short drive south revealed a beautiful octagonal house set in the woods. Upon exiting the support vehicle, we were welcomed by Professor Art MacCarley, professor of electrical engineering at CalPoly, and his wife Dana who had prepared for us a beautiful home cooked meal; the first the team had had for a long time! We were joined for dinner by Dan and his colleagues, and the meal was spent discussing the project, what's going on at the university, Rick's experiences in the helicopters, and Claudio's various escapades. A truly enjoyable occasion!
Very quickly, tiredness set in, and our hosts graciously offered up their spacious living room and spare bedrooms for our use. Soon after, we were fast asleep!
RGE would like to thank Art and Dana for their exceptional hospitality, delicious chicken, and very comfortable sofas! No doubt we would have had a far less enjoyable night had they not been there to help!