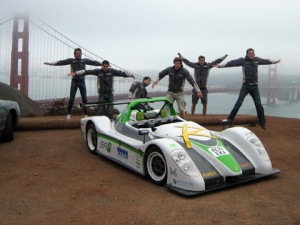 Today was certainly not going to be the longest day of driving, just under 100 miles actually, but there were two very exciting things that were going to happen. Firstly, Ben from CAR magazine needed a set of really great coastal driving shots which were crucial  for the PR side of the project, and secondly, we were going to cross the Golden Gate Bridge (GGB) to make it into San Francisco!
So, in order for the team to get as much as sleep as possible, Clemens raced ahead to the hotel the night before with Ben and Dan so that he could get up early in the morning to drive the 30 miles or so over to the coast. The plan was that we would meet him on the north side of the GGB just north of San Francisco once he'd finished the photoshoot. This meant that the rest of us could get a bit more sleep than usual!
Clemens left the hotel early in the morning, and drove with Ben and Dan over to Nick's house to unplug the car and take it to the coast. Fortunately, unlike the day before when charging had ceased while we were sleeping, the car had charged perfectly this time and Clemens was able to unplug without hassle and get moving to Carmet, the town on the coast where we were to be photographed. Beforehand though, he was able to give Nick (our car host for the previous night) a quick spin around the block to help thank him for his incredible hospitality.
Back at the hotel, the rest of us were just waking up and tending to a number of emails that had been left for far too long when a call came through from Clemens:
Alex: "Hey man, what's up?"
Clemens: "We've had an accident!"
Alex: "What!? Is everyone alright? What happened?"
Clemens: "Everyone's fine, but we had a crash."
Pause as my heart fails and then reboots…
Clemens: "But, don't worry, the SRZero is fine!"
Relief!
As it transpired, the accident was kind of our fault, but very indirectly. Ben's car was parked up on the side of the road as the SRZero was driving past. However, there was a mesmerised driver behind the SRZero who could not take his eyes off it, and as he was staring he veered off the road and straight into Ben's parked car! Apparently, the front of the perpetrator's car was totalled, and I could certainly believe it after seeing how smashed up Ben's car was. Fortunately no one was injured though, and the whole business over swapping insurance etc was handled amicably.
Another bit of luck was that Ben's car was still capable of driving, so they managed to get all the photos they wanted to take of the SRZero, and so it was bang on time that we met them at one of the most anticipated spots of the entire trip; the Golden Gate Bridge!
The plan was to meet them on the north side of the bridge where there was a car park as well as some great view points of the bridge and city. It also had easy access to roads going up the mountainside which gave an amazing bird's eye view of the bridge and surrounding area. The scenery was incredibly dramatic, further emphasised by the clouds constantly rolling off the Pacific Ocean and into the Bay area, and provided an exquisite location for some great filming as well as another one of these experiences which you would never expect to happen…
When Claudio was filming Charlie Boorman in the By Any Means television series, he was out in Australia where he met a bunch of guys from Zero Motorcycles, a company building high performance electric motorbikes. As it so happens, this company is based in California, and they got wind of the RGE project. We just had to meet up! The world's longest range electric vehicle had to ride alongside some of the best electric bikes out there too, and there is quite simply no better place to do it than in San Francisco!
So at the car park I mentioned earlier, we met up with the Zero guys and got a good look at their bikes. They were built to an exceptionally high standard and employed some of the best and latest technology we have seen on electric vehicles, especially on the battery side of things. Incredibly, they also let us have a go on them, with some team members managing to ride them with varying degrees of success!
But there was not time to hang around; the weather was closing in rapidly and it was imperative that we captured the moment we crossed the bridge. So after a photoshoot at the top of the mountain overlooking the bridge, we headed down with cameras mounted on the car, in the car, as well as being filmed by several bikes weaving around us. And wow! Speeding across the bridge was, for me, the highlight of the trip so far. It seemed to symbolise a major milestone even though it only represented about one quarter of our journey. Here we were driving across this international icon and once the world's longest suspension bridge in an absolutely unique vehicle which we had built ourselves. I would need far greater writing skills to come anywhere close to conveying the elation the team and I were feeling. The car effortlessly glided across the Golden Gate, and before long we had completed 2.7km straight and we were in San Francisco! YES!
Our traverse of the GGB was followed by a drive along the sea front, past Fisherman's Wharf and the Marina District, and finally into the east of the city. On the way, we got a huge amount of nods, waves, stares, jaw drops, hoots and all other manner of salutation. In addition to this however, we also got skateboarded. No, this is not some kind of new slang spoken by this unruly youth of today, but merely a word I just made up to describe a quite unusual (and probably illegal) experience. A skateboarder ran up to us while we were stuck behind a red traffic light and asked what the car was. We quickly explained, and stunned as he was, we have to give him credit for a fantastic idea. He asked if he could hold on to our wing while we accelerated off. We said yes, and off we went down the streets of San Francisco! Judging by the whoops and shouts of enjoyment coming from behind, I knew he was having a great time, but as a set of tram rails loomed ahead, he let go rapidly and he disappeared off into the crowd!
From here we headed on to 9th street where the car was to be charged and accommodated during our stay in San Francisco. The building we had been directed to turned out to be a place called Luscious Garage, and a more lush place you could simply not imagine! Set in a trendy part of town, this garage was more like a 5 star luxury electric and hybrid service centre. With a high arched wooden ceiling, large skylights, huge amounts of space, lots of tools neatly arranged, and 4 hi-tech car lifts, this was engineering heaven! It also turned out to be probably the greatest place we could ever hope to charge our car as there were all manner of sockets, extension cords and other charging accoutrements. We were greeted by the owner and founder of Luscious, Caroline, who very kindly let us stay there for free. We would like to thank Caroline for her exceptional kindness and generosity, and congratulate her on the truly fantastic business she has set up.
Normally, setting up the car to charge here in the US causes massive headaches for us as every socket is different. However, Luscious Garage had all the right sockets we needed and the car was very quickly sucking up that invisible sauce called electricity! With the car taken care of, it was time to head for some food with an old friend of Toby's who lived in the area. Andy was his name, and throughout our stay in San Francisco he showed us a really great time. Anyway, away we drove to San Francisco's Japanese quarter where we delved into a traditional all you can eat sukiyaki. Many of the team had never had this culinary experience before, so it was with relish that we tucked in!
From the restaurant, we went back to the hotel, changed into something a little more appropriate, and headed off to sample the San Franciscan nightlife. What a day though! Everything had gone accordingly to plan (minus Ben's destroyed rental car) and all we had forgotten was to put flowers in our hair for all those gentle people there!
P.S. If you didn't get the reference in the last line, listen to Scott Mackenzie's song on the subject of San Francisco!