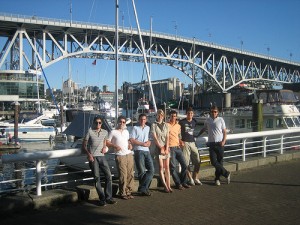 As you may recall, we arrived in Vancouver quite late the previous night, and with the next few days travel-free, the team managed to get a good night's sleep for a change. We woke up to the bright blue Vancouver sky with the faint smell of beach and sea in the air, so after a quick coffee and breakfast, we went to explore! Tuesday was spent walking around town, enjoying the beach, playing some volleyball, and was generally a relaxed day as the team recovered from the last 2 weeks of intensive travelling.
We knew we had a few days of intensive logistics work ahead of us, so we took the opportunity to enjoy ourselves. We were invited to a birthday party at a wonderful restaurant in downtown Vancouver; the name eludes me now, but I do recall having a lobster gnocchi which was quite the gastronomic experience. Judging by the murmurs of contentment from the rest of the team, they were enjoying their meals to a similar extent! With the locals and RGE mixing very well, we headed off to an all but deserted karaoke bar a few blocks away. It became clear that team RGE should stick to building cars rather than singing, but nonetheless it was a very fun experience!
Wednesday dawned and the team was up early to make the most of the day to work on both the car and logistics plan for the next few weeks. So, the team split up with Toby and Nik going over to Don Chandler's house to work on the car, and the rest heading over to the computer and internet facilities at the University of British Columbia. No, we didn't break in or anything like that; we had Charis with us who is a medical research student there, and she kindly let us use her office. While we were here, Pambo got down to some web coding, Andy got stuck into organising our big KPMG event on Friday, and I wrote another blog post and researched what we were going to do about our next support vehicle as the RV had to be dropped off shortly.
So, all pretty mundane stuff you may suspect; working on computers, some light work on the car…nothing much to go wrong, right? No, wrong, for today saw the arrival of the elusive thermistors; those tiny ceramic components that we chased half way across Canada. But now, with them in hand, Toby and Nik set about trying to fix the 2 damaged chargers. If our suspicions were correct about what damage had been sustained, the operation would be fairly simple with just the replacement of the damaged part. So, after a few minutes of soldering and reassembly, both chargers were ready for testing…
BANG!!
It hadn't worked. The same component as before had failed in a spectacular flash, and the chargers were once again paralysed. Clearly something else in the circuit had been damaged by the high voltage transients experienced up north while we were charging off non-grid supplies. Let me explain; when we were up north in the really remote locations, with tiny towns of just a few hundred people, we found that these communities were not connected to the electricity grid like much of the rest of us. As they are so remote, rather than laying huge power pylons across the country, they have a big diesel generator in town which provides for all their electricity needs. The problem is that this is a miniscule generator compared to the gargantuan power stations found on normal grids, and when one big local power-sucker unplugs, for example an RV drawing 50 amps, you can get sudden high voltage spikes. It's these spikes that we suspect damaged the chargers.
By this time, it was pushing 8 o'clock, everything except the restaurants were closing, so it was time to forget about the stresses of driving down the Pan-Am Highway, and find some good food and great company. So we met up with Charis and some of her friends, and off we went for a delicious meal at a local restaurant, followed by a midnight team swim in the sea. This may sound foolish, but it wasn't actually; the moon was bright, and the presence of Vancouver Island just off the coast prevents anything but the tiniest waves getting to shore. Nothing like a chilly swim to refresh oneself and get in the mood for some sleep!
Thursday brought about some serious urgency as we needed to send off the chargers back to England, as well as organising the support vehicle for the rest of the journey. In addition, Toby and Andy were due to go and visit an electric vehicle manufacturer out by Fort Langley, around an hour away from downtown Vancouver…busy, busy, busy! So, first up was a call to FedEx. You may remember that our previous brush with FedEx, way back in Kitwanga, resulted in a frustrating call with a robot who didn't understand English. It would seem that a week and a half later, nothing had changed as Toby verbally wrestled with said robot until it gave in and finally passed him on to a real person who, by the sounds of it, had spent too much time with her robot colleague.
After a lot of back and forth, we organised the shipment and then had the task of trying to source boxes and wrapping materials. So, Clemens and Charis jumped onto some bicycles and headed off to source the goodies. Meanwhile, I was scouring the internet for a worthy support vehicle which would last all the way to our final destination at the bottom of the world. The question was whether or not to rent or purchase, and where to do it; here in Canada or across the border in the US…
It was decided that as we had time in Vancouver and not immediately when we entered the US, and the fact that the RV needed to be handed back in Seattle, it was definitely easier to get the vehicle in Vancouver. Furthermore, no rental company would ever be mad enough to hire out a van to a bunch of twenty-somethings driving all the way to Ushuaia, so buying a vehicle and selling it at the end of our trip remained our only option. What vehicle should we get though?
There was much debate within the team as we walked down the road to obtain a caffeine fix, but all of a sudden a Ford E-350 rolled past and we knew that was the vehicle for us. On first impressions, it had all the prerequisites; high ride height, and enough space for luggage and passengers. Further research showed that it was by far the most popular van in America, accounting for a shade under 50% of the entire van market. This translates into many spare parts throughout the length of our journey, and a wealth of happy customers to back up our choice. In addition, it had a powerful engine and good suspension; exactly what we needed.
So, I started to look around for these vehicles, but found very few of them available. I did find one though, which seemed in good nick, so I called up a guy called Richard Smyth from the Ocean Park Ford dealer, just a few kilometres out of Vancouver. He informed me that the vehicle I was interested in had just been sold, and he also explained why there were so few of them around. Firstly, it's a very popular model, and secondly, as it is the summer driving season, all the rental companies soak up the vans to rent out, and when the driving season is over in autumn/fall, they put them on the second hand market. He assured me, however, that he had a man at an auction that would be able to get us the model we wanted and that he would get back in touch. So we waited, and turned our attention back to shipping the chargers.
Once Clemens and Charis had returned with bicycles laden with cardboard boxes, bubble wrap, and sticky tape, we set about packing the two chargers in such a way that they would survive any maltreatment. By the end, it could have doubled as a small nuclear bunker, and serious doubts were raised as to whether or not the box, after being un-flatpacked, would fit through the door of the apartment! Anyway, shortly after, a FedEx pickup man arrived to collect the box. As he came in, he recognised us and the project, which was quite something! Apparently we had been in the local newspapers that morning, which was strange as we hadn't given any interviews, but somehow word had leaked that we were in Vancouver! We then had a very friendly chat about what we were up to, but before long he had to dash, and he expertly navigated the box through the door singlehandedly, and off the chargers went on their intercontinental journey.
By this time, Andy had returned from a lunch with KPMG, who were organising a big day for us on Friday. He and Toby then headed off to Future Cars for a tour of their facility and the chance to have a quick drive in some very sporty looking vehicles. By all accounts, the technology they were using and the design of their vehicles were highly regarded by the RGE team members, and they brought back interesting titbits of information for the other team members, that had been otherwise occupied, to devour.
Shortly after Toby and Andy's return, we headed out to the Sand Bar, a restaurant on Granville Island. I know I've spoken a lot about food over the last few weeks, but this actually merits its own blog post. In fact, merely entering the restaurant was somehow more than enough to convince me that moving to Vancouver would be a very sensible idea. We walked into the 3 storey restaurant, and noticed a live band playing classy jazz in the corner. Everywhere you looked was some sort of warm, dark wood, with fishing related equipment dotted here and there. Walking up the stairs to our table revealed a fully fledged fishing bout hanging from the ceiling, and right in front of our table was a huge window the height and breadth of the entire building.
What good is a window without a view though, eh? Well this place had a view, I can tell you! The restaurant was located directly under a huge iron bridge spanning all of Vancouver's marinas, and right beneath us you could see beautiful yachts sailing in and out of the harbour as the sun slowly set behind Vancouver Island in the far distance. Ideal location for sure, but we were even more bowled over when the food hit our taste buds. Delicious, tender and fresh seafood abounded…I really shouldn't say anymore as the memory is just torturing me! Anyway, after an exquisite meal and fantastic atmosphere, we decided it would be prudent to have an early night as tomorrow would be a long day…
Friday started nice and early for Toby and Andy who were ready and waiting for the media to kick off our big KPMG sponsor's day at 6.30am. Shortly after that, Clemens and Pambo drove the SRZero out to meet KPMG and the media in downtown Vancouver, where a whole section of road had been closed off for us…VIP treatment! Here esteemed members of KPMG's Vancouver branch had a chance to ride in the car, and all the local news channels were able to get some great footage. Oh and just so you can keep count, we got stopped again by the police, but once again, our documents proved sufficient to get us off the hook. A fantastic start to the day, but unfortunately myself and Nik were not having such a good time over on the other side of town.
We were over at Ocean Park Ford supposedly picking up a 2009 Ford E-350 in great condition, very few miles on the clock, and bargained down to a fantastic price. But after completing all the paperwork, inspecting the car, test driving, and going through all the motions of buying a car, our cards weren't working. It transpires that across the pond here they don't like using chip and pin on debit/credit cards, and over in Europe, our banks think that swiping a card is potentially fraudulent so neither of our cards were accepted. We tried calling our banks, we tried calling Visa, we tried getting a bank draft from local banks, and we tried different machines, but all to no avail. And with the next day being Saturday, the chances to get hold of our banks were very limited, and so we needed something almost miracle-like to happen. We didn't have too long to wait fortunately…
Anyway, now that we had spent all our time at the dealership, we had to shoot back to downtown Vancouver for 3pm in order to be on time for the second half of our sponsor's day. Without going into too much detail as to how often we broke the speed limit and other traffic violations, we made it to Howe Street just in time. As our readers from Vancouver may know, there is a restaurant simply called "C" situated right at the bottom of Howe Street and overlooking the waterfront. With the car shining as new (due to a professional car detailer that had been brought in by KPMG) and parked just in front of C, we were ready to receive a number of high profile guests.
So, while snacking on delicate delicacies including oysters, jumbo prawns on sticks and some tuna thingies, we welcomed high profile members of KPMG and government, including the Honourable John Yap, Canada's Minister of State for Climate Action, as well as some of KPMG's top clients.  This gave us the opportunity to talk about the car and project to a wide ranging and highly receptive audience. It was also a fantastic networking opportunity for many involved, and we have subsequently been in touch with a number of the people we spoke with.
The event at C ended at around 5.30pm, and from there we moved ourselves and the car over to a restaurant called Marmalade just round the corner and also on the sea front. Here we were educated and entertained by an energetic presentation from Dr. Wal van Lierop, President and CEO of Chrysalix, a VC firm specialising in energy. This enabled us to get to know our KPMG hosts a lot better in quite an informal atmosphere, complimented by drinks and yet more food. And this is where RGE was saved from a support vehicle-less fate. There I was chatting with Lorne Burns, a Partner at KPMG, and having a general moan over the inexplicable lack of chip and pin debit card recognition and how it stopped us getting our shiny silver Ford, when he offered to come down and pay for it himself!
Now Lorne looks like a nice guy, he even sounds like a nice guy, especially after speaking so positively of the RGE project. But when someone offers to come and loan you tens of thousands of dollars, and to agree to come over and do so on a Saturday morning, you know they're exceptional. So, I would like to very publically thank Lorne for his help on this matter; without his assistance we would still be stuck in Vancouver! Arguably, this wouldn't be such a bad thing at all, apart from meaning that we would miss our other sponsor's events we had to make across the border. RGE has a tight schedule!
The day's events finished at around 9pm, and we quickly dashed with the SRZero over to Don's house to give the car a charge, then back to Charis's for a shower and change, and then out for our last night in Vancouver!
The team loved every minute of our stay in Vancouver, and have a huge number of people to thank for making it so pleasant; chief among them being Charis, Don, Lorne and KPMG's wonderful staff!