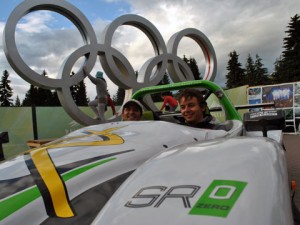 Preface: Dear readers, there are currently no photos for this leg; unfortunately, due to a misunderstanding, Andy's bag did not follow him out of the taxi (which contained the camera and all the latest photos) a few days ago, so until we get said bag back (we've been assured it will arrive on Thursday latest) you will have to do without. But rest assured, the pictures are coming!
OK, I need a deep breath before I start this blog post as this was a long day and a fair bit to write about! We had only 242 miles (387km) to Vancouver, but we knew the terrain was going to be tough as we crossed the Rocky Mountains and took on the precarious twists and turns of the mighty Duffy Lake Road. It sounds like a nice and easy road by its name, but I can tell you that it turned out to be very far from it!
Given the route, we decided we needed a full charge, and as the name of this entry suggests, we were going to go via Whistler and spend some time there too, so we needed to leave early as well. But, avid RGE followers, as you'll remember from previous blog posts, 2 of our chargers are out for the count and we have but one charger remaining. So we did what any other mad engineers would do; we got up at 3.30am, and tow charged the car behind the RV (effectively simulating regenerative breaking) until it was full! This worked fantastically, and before long, we were back where we started at the RV park. As mentioned previously, whenever we do tow charge, which is an absolute last resort by the way, we always go back to the same position so that the SRZero drives every metre of the Pan-Am Highway under its own power.
But when we wanted to start driving, there were problems. The car didn't seem to work properly all of a sudden, and we noticed that the low voltage circuit, normally sitting at a comfortable 13.8 volts, was falling. We had seen this behaviour before; a long time ago we had realised that if we charged at too high a current, a fuse in the DCDC converter would blow. We had fixed this problem and had subsequently not seen this issue crop up for months, so how could it have failed this time?
The tow charging turned out to be the culprit because we were able to charge at very high currents by towing the car fast and using higher charging currents than we had ever previously employed. I admit I did get a little excited with the RV throttle pedal, and may have gone faster than we had done previously towed at, so quite clearly this is where the problem lay. After diagnosing the problem, it was time to whip the seat out and get to that meddling fuse! This constituted the first break down of the entire trip, all 2,500 miles (4000km) of it so far, but very quickly everything was fixed and back in the car…problem solved!
Fixing the problem, while teaching us not to tow charge at speeds in excess of 65mph (104km/h), did delay us, and it was only after some hurried calls to our friends who were to meet us in Whistler hat we finally got on the road.
And what a road it was! It very quickly turned from an easy and fairly straight road surrounded by lush vegetation, into the complete and utter opposite. All of a sudden, we were negotiating tight hairpin bends as we wound our way into the almost desert-like Rockies. The dense forest turned into scrubland, and the valley we had previously been in morphed into cliff top roads overlooking plummeting ravines and bottoming out with gushing rivers. It was exactly like the scenery you'd get in your typical western; breathtakingly beautiful, rugged, and dangerous all at the same time!
But we couldn't let our eyes wonder; now more than ever before we had to be 100% concentrated on the road ahead as we took on the mountains' steep contours. Quite frequently there were rocks and other debris on the road from recent rock falls that needed to be quickly avoided, and the traffic behind as kept us moving at a brisk pace. And don't forget the random road flooding, where the SRZero had no choice but to go wading through a puddle with similar proportions to an Olympic swimming pool! These things one just can't avoid, but without any fuss, the SRZero made it through without being worse for wear!
On several occasions, the twists and turns and the RV's inability to handle these roads particularly well meant that we were out of radio contact with the SRZero for much of the time. But after passing the worst of the road, the convoy reunited, and we continued up the road to Whistler; one of the world's most famed ski resorts and home of the 2010 Winter Olympics! Unlike many alpine resorts which rest high up on the mountainside, Whistler is based quite low down due to the region's very cold winter climate, and as such, the resort is fairly flat and spread out.
We drove around a bit and found our way to the centre where we were to meet 2 people that turned out to be vital to the project. First up was Don Chandler, past-President of the Vancouver Electric Vehicle Association. He had organised the stop at Whistler and the chance to charge off the first of Canada's high power EV charging points. In addition, he also helped organise the procurement of the new thermistors, let us use his garage in Vancouver for charging and storage, and set us up for a photo that very few cars have ever had the pleasure of being in.
At the centre of the village stands a sculpture of one of the world's most famous of emblems; the Olympic Circles. Five meshed circles each around 2.5m in diameter stood at the base of the mountains and on a major pedestrian thoroughfare. Yet somehow, forces beyond team RGE had designed to get the SRZero in front of this famous landmark, and so after a sumptuous dinner, we were parked in front of the emblem taking photos and explaining the project to many a passerby. Quite epic!
The second person that we met when pulling into Whistler was Charis Segeritz, an old friend of Clemens from boarding school in Germany. She had very kindly let the team stay at her apartment, but her mothering nature didn't stop there as you will see later on in the blog post!
So, after a quick dinner, charge up and photoshoot in Whistler and the sun rapidly setting (we were now sufficiently south for darkness to set at a reasonable hour) we headed south for Vancouver, our first major city stop. But not long into the journey we had a minor delay; yep, another confrontation with the law and also giving us one of the best quotes of the trip so far:

Police Siren: "NEE NAW NEE NAW BEE BOO BEE BOO," accompanied by the customary red and blue lights of a squad car.
The RGE convoy pulls over and wait for the sharply dress Mounty to come over from his squad car.
Mounty: "What in hell could possibly make you think that this car is legal to drive on the Canadian highway!?"
The usual document-showing ensued, but nonetheless, 2 more squad cars were called in to deal with us foreigners, followed by the actual Police Chief in his unmarked car. Why it was necessary to have 10 policemen in 4 cars stop just 2 people in one car is baffling, but perhaps it was for the large number of pictures they took of the car afterwards! As always though, we were treated with complete courtesy and professionalism.
So, fast forward to Vancouver where the convoy now consisted of Don's car, followed by the SRZero, followed by Claudio and Greg on the bike, and tailed by the RV. After dodging in and out of the inbound Vancouver traffic, we finally made it down to 32nd Avenue and to Don's home out in the leafy southern suburbs. We quickly had the car on charge and the RV parked up, and then Don very kindly offered to ferry the whole team over to Charis's apartment about 15 minutes away. Don's help was certainly instrumental in making the day so smooth, so a big public thanks from the team!
And upon entering Charis's home, the team immediately felt like I would imagine new born chickens do as their mother hen clucks above overhead. A whole bunch of beds were laid out for each team member, the fridge was stocked up especially for us, breakfast equipment was already on standby, and the cupboards in the kitchen were labelled according to which contained food we could munch. It felt like home from home! Charis' flatmate, Laura, was also very accommodating, as were her neighbours who put up Nik and Pambo for a few nights too.