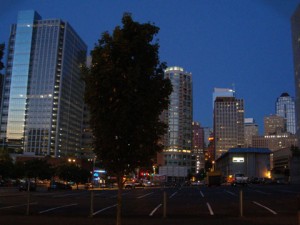 Our fifth morning in Vancouver dawned just the same as every other; bright, blue and warm! However, today signified something quite new for the team. For the first time ever, we completed our first full country, and in true RGE style, this was the world's second largest country! But before approaching the border, which was promising its own set of challenges, we had to pick up our support vehicle which was conveniently located just 7km from the border.
After packing up all our gear from Charis's apartment, we headed over to Ocean Park Ford to meet Lorne Burns from KPMG, and finally purchase the support vehicle. As you may remember from the previous (mammoth of a) blog post, Lorne is a Partner with KPMG and he agreed to loan us the money we needed to buy the car until we had sorted out the issue with our debit cards. They weren't working on the card machines here for some obscure reason, despite the funds being in our account!
Naturally, a quick drive down to the local Ford dealer has its hitches, such as being stopped by the police TWICE just a few minutes apart. On both occasions much more time was spent taking pictures of the car rather than actually checking our documents! One officer kindly offered to commandeer our car for a quick jolly…we politely informed him that he wouldn't be insured on such a vehicle. He then seemed to remember that he was a policeman and put his cap back on his head and walked back to his squad car.
Anyway, as promised, Lorne was there at the dealership on time with his wife Shelley, who also got to see the car, and the whole transaction was completed very swiftly after that. Our thanks go out to Richard Smyth and Rick Lloyd of the Ford dealership who gave us a great price on the car as well as putting up with hours of payment difficulties! It was soon time to say our goodbyes to everyone though, and along with our new vehicle, we headed off to the Canada-US border.
Just a few miles down the road, we see the border. Well, we don't actually see the border, but merely the extensive queue to get to the border. This was just time we didn't have to waste, so we sought alternative methods to get across. Richard, the biker accompanying us for this part of the journey, sped ahead and went to find out if we could get across faster. There turned out to be another way indeed; apparently if we went through the duty free shop, we could get a ticket which put us closer to the gate with much less queuing involved. Needless to say, this is exactly where we headed, and it was not long before we were sat in a much shorter queue than the rest had to endure.
After an hour of waiting, the queue moved and we slowly inched towards some very stern looking border guards. We were warned that these were some hardcore ex-Marine soldiers, and raising attention to oneself was not advised. But just take a look at the SRZero…is it very inconspicuous? Unfortunately not, so the SRZero as well as the 2 vehicles following it were asked to go into an office for extra questioning. In all honesty, we weren't expecting much else, but when we got to the office, there just seemed to be a lot of stamping of various documents going on; they weren't particularly bothered about the car entering the US or anything like that. There were no interrogations like Nik had in Houston, and the border officers were mainly curious just like anybody else. One officer expressed concern about our ability to drive fast:
Officer: "You know, over there in Canada, they drive real slow. Here we drive fast like at 60 or 70 miles an hour.
The team collectively raise an eyebrow in surprise, especially the German contingent who are used to 150mph on the autobahn.
Officer: "We have like 16 wheeler trucks driving bombing down the highway here…you sure your little electric car can keep up?"
Team: "Yes officer, we have no problem keeping up with the traffic."
Anyway, after our carnet had been signed and stamped, and our passports returned, we were free to go and enter the USA! It was a surprisingly nonplussing experience, and given the fact that pretty much everything was exactly the same on the other side of the border, from the cars to the restaurants to the road markings (apart from the change from kilometres to miles), it was difficult to believe we were in another country!
Onwards we drove, always heading south until we hit a petrol station where we fuelled up. We also took the opportunity to collectively regress to the age of about 4, and have a cherry pip spitting competition. There were some animated attempts but with no clear winner unfortunately. Quickly behaving our age again, we got back into the vehicles and carried on driving down to Seattle. There were some stunning views of a snow-capped Mount Baker in the distance, with its peak forever shrouded in its own little cloud in an otherwise perfect blue sky.
A few hours later we arrived at Seattle's most famous landmark; the Space Needle, but not before being stopped by the police twice. The first time was just a curiosity call, but after finding out we were a tad lost, he escorted us onto the right road…our first police escort! The second stop was completely valid; I ran a red light in the support vehicle. Fortunately however, the officer was very reasonable and let me off without any consequences.
Anyway, back to the Space Needle where coincidentally there was a film festival finishing right there, and so 30,000 gushed past the SRZero as we were parked. Much as we love showing the car to everyone, we had other things on our mind at this point. We had just found out that our charging and accommodation arrangements in Seattle had fallen through, and so we now needed to very quickly find somewhere to charge up the car.
Now it was time to get a bit plucky and see what we could get away with. So we drove down the street straight into a Ramada Hotel. Very quickly we had a host of guests outside staring and the car and asking questions, and shortly after, the manager appeared. We explained the project to him and how we desperately needed to charge, and he was very receptive indeed. He immediately called down the hotel engineer and told him to assist us to find a suitable plug. Unfortunately, after hours of searching through the kitchen, laundry room and other non-public areas of the hotel we found some plugs, but none in a suitable location that could reach the car. At 10pm we were forced to cut our losses and move on; there was no chance that we could charge here.
But where could we go? Ever since I've seen The Rock, a film starring Sean Connery where he (amongst other things) escapes from the Fairmont Hotel in San Francisco, I've wanted to go to the Fairmont Hotel. Put it down to childhood fantasy! Anyway, a quick look on the internet revealed a Fairmont Hotel (only the most expensive hotel in the city) just a couple of miles down the road, and somehow I knew that this is where we must go. So, brimming with confidence we set off, and a few minutes later pulled into the carriage driveway of the Fairmont Hotel, and we stopped right in the centre. What an entrance!
There was utter amazement from all the staff, and very quickly word was passed up to the manager about this very cool looking car that wanted to charge up. Again, the staff were more than helpful, and an engineer was sent to help us locate an appropriate plug. After a brief searching mission, we found a plug about 20 metres away just inside the lobby, and very quickly we were wired up and charging!
But don't forget the second conundrum…we still needed to find a place to stay for the night. So I went off to make friends with the manager and to see if he could swing us some (free) rooms for the night. It turned out that, after a bit of a chat, he would be very willing to help us out, and so he tapped into his computer to see what he could give us. The computer beeped. Nothing was available, not a single room anywhere. This was due to the film festival I mentioned earlier, and according to a number of hotels we subsequently called, they were full to the brim too. Charles, for that was the manager's name, wanted to help us though. He was a resourceful chap, even suggested getting some beds into the conference room for us! But the hotel was so full, there were no spare beds either, and the thought of us roughing it in sleeping bags in some remote corner was just too discomforting for a hotel charging a minimum of $300 a night.
Fortunately, we still had the RV with us and so this is where we were going to crash for the night. However, there were no RV parks around, and the only place we could park was a car park in a very dodgy section of town. It seemed to be a transit for the local gangs, and was also home to a number of homeless people, some of whom tried to sleep with us in our RV. As much as we wanted to help out, there was no space whatsoever, but we did give them some food and wine.
And so there we were, sleeping in a car park while the SRZero was getting 5 star treatment at the Fairmont. For any sponsors reading this blog, take notice of where our priorities lie

.