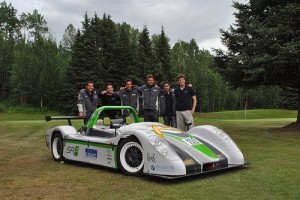 After lastnight out, the first time the team had gone for a proper evening out, we needed a little bit more sleep than usual. Normally any sleep longer than a few hours is laced with guilt as we would far rather be driving and making progress than lazing around, but as the car still had a long way to charge, this lie-in was guilt free!
Upon waking up and finding the RV park bathed in bright sunlight, we discovered that we were in the middle of a beautiful 18 hole golf course replete with a wide gushing river down one of its borders. As there were still a few hours of charging time left, what better way to while away a sunny morning than having a quick round o' golf? There was, in fact, nothing better to do, so off we went to borrow some clubs from the clubhouse.
Unlike the scenario where one is expected to be dressed appropriately for such a gentlemanly sport, we teed off in t-shirts, swim shorts and flip flops, with Clemens feeling especially liberated and missing out the last item all together and playing completely barefoot! Despite the late night and sub-optimal footwear, there were a number of excellently played holes, and the team came off the round feeling refreshed and ready for lunch!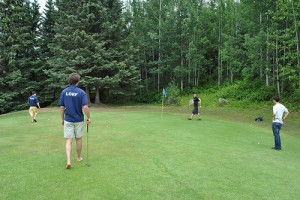 After lunching on a terrace overlooking the golf course, we met with the owner of the property who had seen the car and was very keen to get some photos. A pretty standard occurrence one might think, but he requested for the car to be parked on one of his fairways; certainly a first for the team! So off we went to the car, unplugged it from its electricity supply, and drove it onto the golf course. If any of you are wondering, yes, we did try wheel spinning on the grass, yes it was cool, and no the grass wasn't ripped up!
A small crowd gathered to take photos and to see what is surely the sexiest golf buggy ever to grace a golf course! It was a very enjoyable affair, parked up on fairway one, with a number of very astute and pertinent questions asked by the audience. It was, however, over all too soon as we had to get on to our next stop before the RV park closed for the night.
And that, dear readers, was the highlight of the day, as for the next few hours we drove to Prince George on a pretty but very uneventful drive. The car worked flawlessly, as it had done for the previous 9 days of driving on this vast continent, and it was only the nagging issue of the 2 crippled chargers in the back of our minds that caused us any concern. But as we were confident we would get the replacement components in Vancouver and fix the chargers then, we were happy to leave this issue alone until we could do something about it.
Prince George, a city of just over 83,000 is the largest population centre in northern British Columbia and is based at the confluence of the Fraser and Nechako rivers and is a major transport hub for the region. However, as we were rushing to get to the RV park before it closed, we had no time to explore the area, and it was a mad dash to get in on time and get the car charging up as fast as possible.
And that, my friends, is all that happened on the 12th day of this epic adventure!