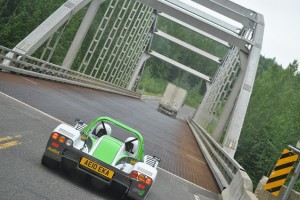 Apology: Dear readers, I must apologise for the lack of blog posts in the last couple of days! The last 96 hours has seen a lot of driving, little sleep, limited internet access, and a computer meltdown where I lost the blog posts I had written. But fear not! RGE is now back online, and today should see a flurry of blog posts to bring you all up to date. Happy reading!
Today was an important day in our quest to chase down the elusive thermistors needed to fix our two crippled chargers. We were told by FedEx, the company shipping the components from the UK, that we would definitely be able to pick up said components in a small town called Kitwanga, about 220 miles south from Iskut. So, in order to pick up these components as early as possible, we aimed to get to Kitwanga for mid-late morning, and as usual, this necessitated another hideously early start!
This leg saw the team complete the Cassiar Highway, and we were told that the road condition would be significantly better on this half compared to the last. It was true; smooth tarmac awaited us as we sped down to Kitwanga. When I say that we "sped down", I mean it in the literal sense…the drive seemed to be going continuously downhill, with some spectacular road plunging down between vertical mountain cliffs, and amongst waterfalls and river rapids. However, one could notice the landscape changing, and it wasn't long before we were out of the mountains and driving on relatively flat land.
During the drive, we had the opportunity to see some more bears, three of them to be precise, but all at much closer range than we had seen them on the roadside before. Due to the remoteness of the road and very low levels of traffic, the tarmac borders right onto the forest rather than having a cleared area of land either side of the road in which to spot roaming animals before they jump in front of one's vehicle (the usual scenario for more frequented highways). This enabled us to see these animals, one being a tiny cub, mere metres from the car, and each occasion this elicited squeals of excitement from the team and words to the effect of "LOOK, OH LOOK AT THE BEAR! ISN'T HE CUTE?!" I admit that I am the main culprit of said squeals, as well as the accompanied change in voice to something resembling a mother cooing over her newborn baby!
Other than seeing the bears, the drive passed very uneventfully all the way until we reached the tiny town of Kitwanga, nestled in rolling countryside at the base of the Seven Sisters mountain range, a chain of 14 high, jagged and permanently snow-capped peaks. We headed directly for the local RV park, and set the car up for charging. We also took the opportunity to go and ask the lady at the desk if the package containing our components, which she had been forewarned about, had arrived yet. "No it hasn't," she said, "But don't worry, it will be delivered here by the end of the day" she added. With this comforting thought in mind and a warm, cloudless day developing overhead, we sauntered over to the local cafe for brunch and some of that oh so sweet wifi!
After some refreshing food made with delicious local produce, we checked the FedEx tracking number we were given to try and ascertain exactly where our components were. Apparently, the last FedEx had heard was that the package had reached Prince George (around 300 miles away); no further information was given. This was when the first seeds of doubt began to creep in; would our plan to rendezvous with our components shipped from halfway around the world actually work?
We headed back to the RV park to find out whether the package had been delivered. By this time it was around 4pm on a Friday afternoon, and local shops and businesses were beginning to close for the weekend. Nonetheless, we were hopeful that at some point during our absence, a postman would have found the time to drop off our little package. So, we winged our way across to the office to find another woman waiting calmly at the desk. The conversation goes something like the following:
Alex: "Hi there, my name's Alex. I would just like to check if a parcel has come for me. I think it was you I spoke to on the phone earlier, no?"
Woman: "Hi there, we spoke earlier, but your parcel hasn't arrived, eh."
Alex: "But I was assured it would be delivered here today."
Woman: "Oh no, a parcel that small would be delivered to the post office, eh."
Alex: "What?! The previous woman told me it would be delivered here."
Woman: "Oh, that woman has been ill recently, and sometimes gets a little confused, eh."
Alex: "So is it at the post office?"
Woman: "I have no idea, but the post office is closed now, eh. You'll have to wait until Monday."
Anyway, you can imagine our frustration when FedEx tell us one thing, and two different women from the RV park tell us contrasting things as well. We were now desperate to try all options in order to recover these components. First up was a call to FedEx. A chirpy robotic voice could be heard from the other end. She kindly asked me to say the department I was looking for out of a list of options. "Tracking", I said. She thanked me and then proceeded to pass me on to the accounts department where I was greeted by another robot. Similar things happened on several more tries, and I quickly concluded that getting through the maze of robots may take me until the following decade. More drastic measures needed to be taken…
It was pushing 5.30pm, everything was closed, but we thought an attempt to somehow infiltrate the post office would be a good idea. This was another occasion where Greg, our biker friend (now nicknamed "Sexy Bitch" after some very feminine posing with a plastic bag) came in handy as he offered one of us to jump on the back of his bike and speed in towards the post office. Special Agent Toby Schulz was selected for this mission, and off they sped into "town".
Toby returned empty handed, but with an ace up his sleeve; he had managed to recruit a local couple who somehow had access to the key of the post office, and were currently rifling through the mail to find our package. However, they turned up at the RV park half an hour later and also empty handed. This was well and truly game over they assured us…no more chance to get the package until Monday. They did promise to pick up the package on our behalf and forward it to our address in Vancouver though. Actually, this kind of incredible friendliness, helpfulness, and hospitality is something we have found everywhere throughout our trip so far. Perhaps it is the spirit engendered by a small close-knit community, or it's just that Canadians and Americans are super friendly, but either way it's a humbling experience.
However, back to the charger issue; with no way of getting hold of the components until Monday if we were to stay in Kitwanga, we decided the best course of action was to carry on driving and ensure we manage to secure the components upon our arrival in Vancouver, around 750 miles away. We decided the best place for us to drive to was a town called Smithers a few hours down the road. At around 7pm, we set off on the second drive of the day…
With a population of just over 5,500 people, Smithers was a blast of civilisation for us! All of a sudden there were lots of buildings, people, cars and shops. It was quite a pretty place actually, with wide and well kept streets, but we did not have much time to appreciate this as RGE was soon in trouble! Bright flashes of red and blue came into view as one of the RCMP (Royal Canadian Mounted Police) squad cars sped into view and pulled over the SRZero. Finally, after months of waiting and hoping, we were stopped by the police! With Claudio filming covertly while hidden in some nearby bushes, and with Nik snapping away like a Japanese tourist, it was lights, camera, action!
A policeman stepped out of the car; "We have a ten-four, over," he said into his radio before walking over to Toby and Andy, who were waiting with huge grins on their faces while sitting in the SRZero. The policeman asked to see some documents, but before much else could happen, Clemens rushed out of the support vehicle with his trusty leather satchel containing all our vital paperwork. The policeman was presented with all our vehicle registration documents, and then went back to his car to radio in all the information.
He came back a few minutes later saying the Canadian authorities had no knowledge of this vehicle in Canada and was therefore illegal to drive on the road. This was because the insurance we had for the US and Canada was based in California, so there was no record of the car being driven in Canada. Clemens' face fell; as our logistics man it was his job to ensure that we were legal to drive everywhere we go. He rummaged through his folder to find the right document to get us off the hook, but it was not there. After a quick scrounge around the RV however, he found the right folder with the necessary document; a letter from the head of the Canadian transport authority authorising the car to drive through Canada. After seeing this document and conferring with his colleague, the policeman was happy to let us go. The whole episode was very professionally conducted by the RCMP, and we were free to go. However, as we were stopped in the centre of town, we had a huge crowd surrounding the scene and taking pictures…this was not a conspicuous entry into Smithers!
After our little soiree with the local bobby, we continued on towards our destination for the night; an RV park just out of town. We had heard from all the people we had just met in town about what was going on with the Friday nightlife, so we were eager to get the car on charge and head off into town for some food and night-time entertainment.
With the car safely on charge and the team fed to the brim on some delicious pizza, we headed off to The Legion where we were told the entire of the town's youth population assembles. It was a fairly dingy affair, but the atmosphere and the crowd was great, and almost immediately the team was recognised as the bunch of foreigners with that sexy car from earlier. We were quickly making friends, including the policemen who stopped us as they were at the bar too (!), and soon it was time to move on to the next haunt; a nightclub called The Garage. Here we met more people that heard of us and the car, the news had spread like wildfire apparently, and we happily danced the night away with some very pretty locals!
But it didn't end there! While talking to some guys out front, we were invited to an impromptu house party a few minutes walk away. The socialising continued there for a number of very happy hours, and it was 4am by the time we arrived back at the RV after a long but very enjoyable day!