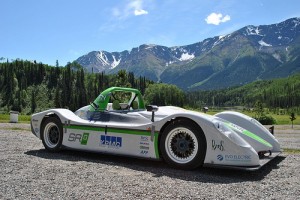 At Watson Lake the one charger we had left did not give us enough juice for our upcoming leg to Iskut, but having towed the car before on the way back from Paris to London due to a problem with the chargers, we discovered towing is actually a very good way to charge the car. You might wonder how this works…While being towed the electric drive of the car works in reverse and charges the batteries by regenerative braking. Long story short, we borrowed a towing rope and set off towards the direction we had been coming from the night before to go on a charging run. Towing 30 miles towards the north, we then turned around and towed back to the Watson Lake RV Park which charged the car to nearly 100 per cent.
After a short 4 hour nap during the charging run, Andy and I got ready for a 2am start driving from to Iskut. Clemens had told us there would be a right turn soon after leaving the RV Park marking the start of the Cassiar Highway, however, the junction was so well disguised however that we missed the turning! By the time we found it we assumed the RV would now be ahead and trying to catch up with us, as we had left a few minutes before them. Therefore in our minds, the race was on to catch up with them, knowing little the rest of the team was actually behind us. Now driving fast at night might sound like a lot of fun but it actually turns out to be rather tricky. Not only were the nights much darker already as we had left the far north but also the road was of quite undesirable quality. When driving around 50-60 mph this leaves you just a second from seeing a pothole until you either hit it or found a good way to dodge it. Flying ahead on our catching up spree therefore turned out to be very exciting but also rather nerve wracking.
We had been going like this for about 20 minutes and could still not see the tail lights of the RV or Greg's motorbike which really made us think. Surely the RV was not capable of this sort of speed on such a bad road? Just at this instance we made out a front light in the far distance behind us which turned out to be Greg on his motorbike. As decided earlier that evening he went ahead of us to spot bad road conditions to be able to warn us in advance which really helps a lot, especially when driving at night. Now we were wondering where was the RV?
As the motorbike caught up from behind we decided to slow down since they were most likely catching up with us too, however even after half an hour creeping along at 30mph there was no sign of our support vehicle. After about one hour the RV finally showed up in our rear view mirrors and it turned out they missed the same junction as us but had carried on for 15 minutes in the wrong direction. Andy and I felt relieved not to be the idiots of the night! What really caused the problem was that our mobiles didn't have reception and once we were past the 500m range of the radios no communication to the support vehicle was possible. Lesson learnt? If you have no safe way to communicate stay within line of sight!
Now all reunited, the journey continued at a better pace. It seemed that the road had been going uphill for the last two days and particularly this night. Our observation was correct and at about 3:30am we were rewarded with one of the most stunning views since we started our trip. Particularly the area around Dease Lake was absolutely breath-taking. It is very unfortunate we had to drive this leg during the night; otherwise we could have posted pictures of this scenery words can't really do justice to. This mistake will not be repeated however and we will now aim to only drive during the day! Having said that, I personally found the mountainous scenery with its harsh rocks and lakes reflecting the surrounding woods in the moonlight extremely impressive and will never forget it. Maybe it was actually more of an experience than driving this part of the Cassiar during the day; there was something very magical about it.
After the peak a 18 mile descent started which was needed as our nightly chase and going uphill for a long time had drained a big chunk of our charge from the batteries. From one test to the next our car now had to face a 6 mile stretch of gravel road. Not that we hadn't driven on gravel road before but here the road had very short spaced ridges going across it giving a ride similar as on cobble road. Having a racing car chassis this can be felt in every bone for the drivers and some suspension components felt it in a similar manner as we discovered upon arrival.
The road was now a bit more modest and allowed time for thought and conversation again. This is when we noticed how cold it had been the entire night (1 dec according to Gregs bike) and that our legs had become rather numb. Even though I was wearing gloves my fingers were stiff and moulded to the shape of the steering wheel, once again time to man up and push ahead. Think about lying in the sun and forget the uncomfortable feeling in fingers and legs. By now it was about 5am and almost bright outside revealing some of the beautiful landscape in dawn for a change. The surroundings were a bit more level than earlier but you could see massive mountains shimmering in the morning light in the near distance.
Usually we are used to have a good eye on the battery level of the SR0 but this time it was the RV that was low on petrol. Here comes another disadvantage of driving during the night, if you pull up at a petrol station at 5am in the middle of nowhere, there will hardly be anyone present to serve you! Another look at the map however confirmed that with what we had left in the tank and a spare jerry can of fuel we should be able to make it to our next stop. At 7am when we had been unlucky again at yet another unmanned petrol station, I gave really needed to warm up and let Toby take over to drive the SR0. I am not sure how Andy managed to hang in there with Toby for the last hour of driving until we hit Iskut without getting hypothermia, but I was extremely happy to take over the steering wheel of the RV and made sure the cockpit was nice and warm.
We arrived at 8am at the Mountain Shadow RV park, were it was finally time for sleep. Most of us had been up all of the night so we made sure to go to bed as soon as the car was put on charge. We woke up to bright sunshine and summery temperatures at one of the nicest RV Parks we had seen so far, located just next to a lake with stunning views over some huge Canadian mountains. Time to sunbathe and discover some of the lake in a dingy while the car was charging. Later in the afternoon we inspected the suspension and found that the battering from the gravel road had increased the wear on some rubber mountings. We noticed before that these mountings would not last the entire trip as they slowly started deforming but now it was time to order replacements as we were sure they would not last much further than Vancouver.
Alex and I wanted to go fishing in the lake later in the evening but instead of lending us his fishing roads, the owner of the RV Park gave us 5 beautiful rainbow trouts. This instantly made us fire up the BBQ, clean out the fish and prepare it with salt, butter and garlic. Fish only 20 minutes out of the water with some simple flavouring, grilled on the BBQ is one of the most delicious things one can find, in my opinion at least. The rest of the evening was spent telling stories and learning how to imitate moose noises for hunting from another visitor. It was a very long but equally successful and enjoyable day and we all crashed in bed at around 12pm for yet another short night's sleep.