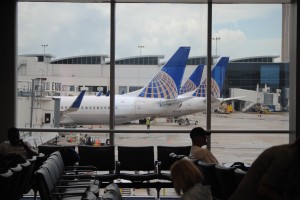 For Racing Green Endurance, this blog post is certainly one of the most exciting! For a start, it's being written at around 33,000ft as the team wings their way across the US mid-west to Anchorage, Alaska, thereby signifying the first day of our Pan-American trip! After a year and a half of hard work from both the team and our sponsors, it gives us great pleasure to be able to recount to you each and every step of this magnificent adventure. As you will see, despite the journey having lasted just 15 hours so far, we haven't been without our near misses…
In true last-minute fashion, the team finished packing late on Sunday night, with a busy weekend spent saying goodbye to friends and family as our 100 day adventure grew ever closer. All of a sudden, the hour was upon us and it was time to get over to Heathrow Airport to catch our flight to Alaska via Houston, Texas. Passing through Heathrow was, surprisingly, a very painless experience, with virtually no queuing, and a few minutes spare for a bit of duty free browsing.
Disappointingly however, Continental Airlines did not get to see the previous blog post about upgrading the team, but we couldn't complain; after a trouble-free, punctual flight with pretty good aeroplane food to boot, we arrived in Houston feeling fresh and ready for the next flight. But the US Homeland Security had other ideas…
"Houston, we have a problem!" Five of us had passed through the US border without any issues, but as we looked back to see where Nik was, we saw him being accompanied away by an armed policewoman. As he was being escorted away from the public area, he shouted to the rest of us "I've been arrested!" No information was given as to why he was detained, and the team waited on anxiously as the time ticked down to the departure of our connecting flight. We had just over an hour pick up our luggage, get through customs, deposit luggage and get to the gate on time, so the situation was looking a little grim…
After a tense half hour wait, Nik emerged after a thorough barraging of questions; apparently a team of 6 engineers driving an electric car from Alaska to Argentina is not a very common occurrence, and so the border police were just a little bit suspicious! But at least we were on our way for now…
We then picked up our luggage from the carousel and rushed through to deposit our bags for the connecting flight. But then, believe it or not, Clemens was held back by immigration too! Now it was getting extremely tight with just 40 minutes until take off…
After 10 minutes there was relief all round as we saw Clemens running through the gates to join us. The reason for his hold up were the 2 Iranian visas in his passport; something which rang bells with US security. But after assuring the officials that we posed no threat to the US, and that he is travelling with a respectable-looking bunch of guys, he was let off and we were finally able to make it to our connecting flight! As fate would have it, the flight was delayed by 10 minutes anyway, so we arrived just in time to make the connection and settle in for the 7 hour flight up to Anchorage!
More updates tomorrow.