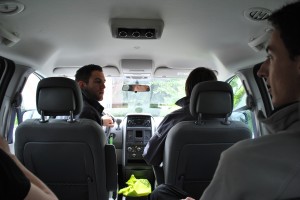 Trip Day 1.
Today saw us complete our first full day of the trip, despite not actually driving the SRZero at all.  As part of our schedule and logistics planning, we had always allowed the first day of the trip to be getting ourselves organised, and we certainly needed it!
First off, we went to the airport to pick up our rental car which we needed for the first day, after which we headed to the Fedex cargo building to find out the latest with regard to the car and all our equipment that had flown over.  This is something that the team had been worrying about…given the fact that WE had problems getting through customs, we were expecting major setbacks in getting a low-slung, sporty looking EV and associated tools and spares through customs.  We were directed through security and to a wonderful lady called Lisa who excitedly waved a stamped piece of paper in our faces; everything was through customs!  We have yet to see the car and goodies actually through and clear of customs, and we were told to come back the next day (today) to pick it all up…so today is very exciting from that point of view!
Next up was a couple of trips to Walmart to stock up on equipment and supplies…nothing too exciting here apart from having to say that Walmart is awesome!  We should have gone to them for some sponsorship…
That's it from this blog post as it's now time to grab some breakfast and then go pick up our 29ft RV and car and equipment!  More to come soon!