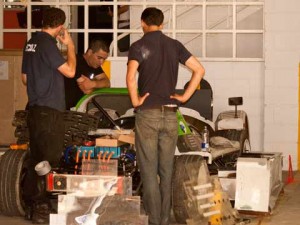 This is not going to be a long blog post, primarily because the day ended with a similar result to the day before, but with far more confusion! We managed to get everything operational, but unless we imposed a very odd set of instructions to the car's components, not everything would work simultaneously. For example, the car starts up fine with either of the 2 motor controllers connected, but not when they were both connected at the same time. This behaviour has not been seen before and raises some very peculiar questions.
So we ended up spending over 13 hours working non stop to try and find the problem, but after checking every component, using an oscilloscope to measure wave forms of the signals down to the microsecond level, we still could not find the problem. Fortunately, Javier, an electronic engineering professor here at the university dropped in not only with his knowledge, but also some delicious pizza which kept us going long into the night! At least that kept our spirits up, because the last thing you want to be is hungry as well as tired while working on the car!
It would take a long time for me to explain the car's system to help properly explain the issues we are seeing, but as usual, we're working round the clock to get it fixed! I hope to be able to give you all some good news soon though…wish us luck!