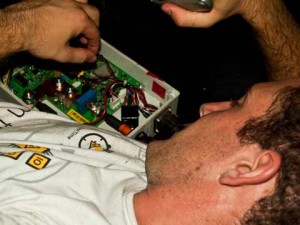 Today started like many preceding it; an early start at the garage in order to return the car to working order. We worked diligently all day without very much to report. The fire damage has now been completely fixed, and some improvements to the bodywork have been made as well. The really interesting stuff started happening when we had out everything back together again, and the car was awaiting its first full test since it caught fire precisely 6 days ago.
The first test we wanted to do was with the full BMS, battery pack and replaced components from the fire damage. Remarkably, it worked first time! We had succeeded in repairing a very complex system in a short space of time and with limited resources, and as such, we were feeling rather chuffed with ourselves. As always though, this is when things start to go wrong.
The first sign of abnormality was when Toby had his hand deep in the bowels of the car, and he received a shock. It wasn't a big shock, but certainly worrying enough for us to take a closer look! However, after several more shocks, we were no closer to finding the reason behind it because a) the shocks seemed random and b) the shocks seemed to happen only when touching insulated cables! It was a bizarre state of affairs defying everything we had ever learnt about electronics.
However, after inspecting everything as close as can be done, we found a very small break in the insulation of a certain cable, and this is what was causing us to be shocked. The reason why it appeared random was because you would only get shocked if another part of your body was touching the chassis, thereby allowing a flow of electricity through you and into the chassis. We were each wearing thick soled shoes so we weren't grounded to earth, and as such we only got shocked when we were accidentally leaning on the chassis. With the cable repaired, this mystery was finally solved though!
The next test would be the most crucial though; all systems go with the aim of putting the car into the high voltage mode that would enable it to drive once again. All the cabling was given another check through, and just in case, we got the fire extinguisher ready on the off chance that we might need it again! Anyway, we started up the car, or tried to rather. For some reason, the contactor (engineering talk for a big switch) completing the high voltage circuit was not staying closed when it was supposed to, and as such we were never able to keep the car in the high voltage state needed for driving.
Initially we thought this may be due to the low voltage we were running on the low voltage circuit at the time. Just like normal cars, we have a lead acid battery to run the low voltage components such as lights, computer, dashboard etc. And as usual, if you leave the batteries unused for a while, they self discharge to a certain extent. Our display showed that we were running at 11.5 volts, which is a little low. As such, we needed to give the lead acid battery a quick charge, and so there was quite an amusing scene as we hooked the van's battery up to the SRZero's…a petrol car jump starting an electric one! How ironic.
However, while this did serve to charge our batteries, it did not solve the problem of the disobedient contactor. It still was not remaining closed. So we embarked on yet another inspection, but nothing untoward turned up. We independently checked the contactor, but this too was working 100% fine. After wracking our brains for hours, we still could not find a reason why this was happening!
By this time, it was around 9.30pm and we had been working for over 12 hours. While we were desperately keen to get the problem solved, we also knew that our best chance to fix it was once we were fed and refreshed, so we downed our tools for today and went back home for some rest. But right now, we have no idea whether this problem just needs a quick fix, or is altogether more sinister which could cause us more delays. We hope it's the former naturally, but as I write this, we have still not found a solution to the problem, and we are on tenterhooks! We have only tomorrow to get the car fully functional again if we are to meet our deadline of leaving on Friday, and this is why even now at midnight, I look across the table and see Toby eagerly studying the log files for an indication of what went wrong. Tireless enthusiasm; that's all I can say!