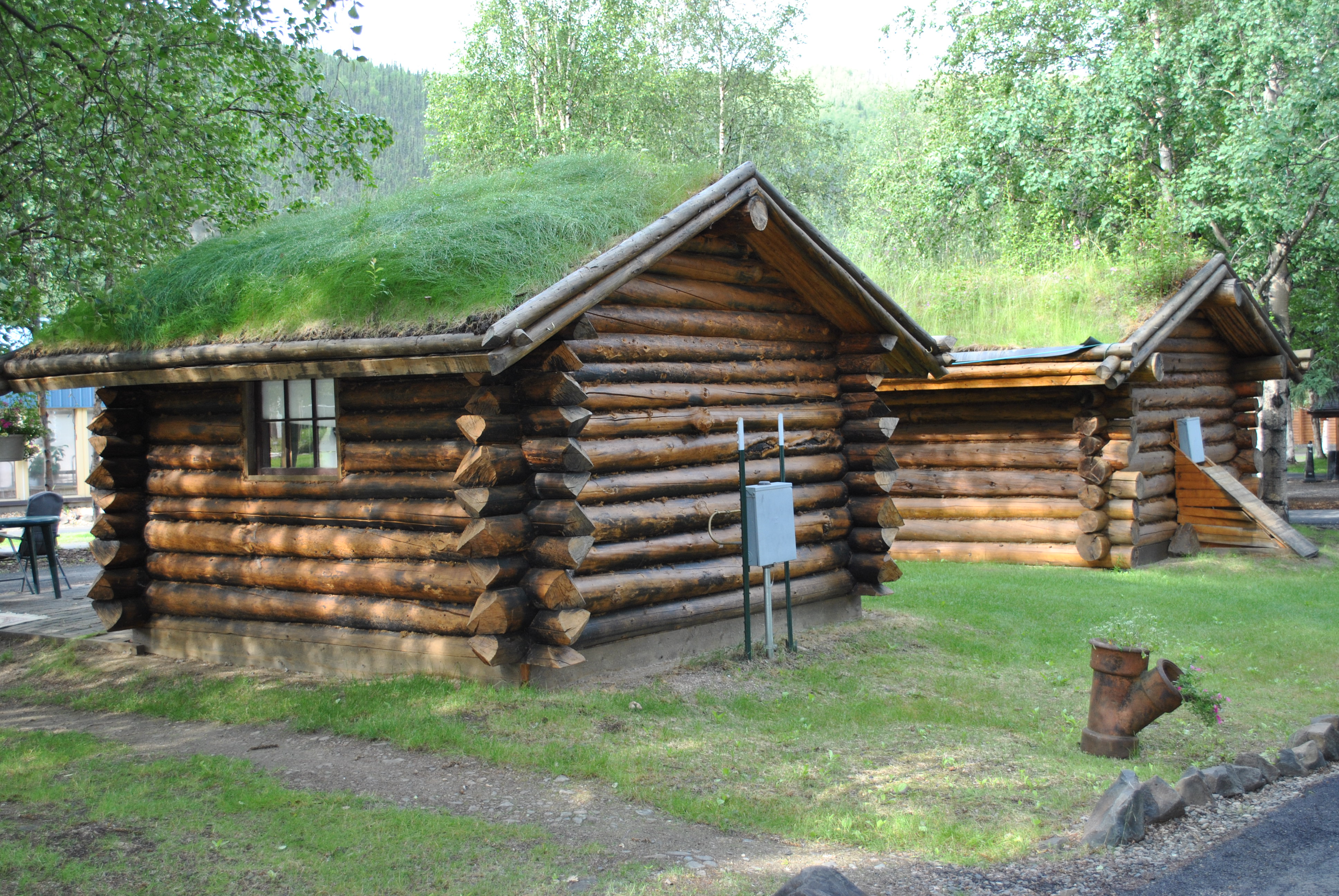 Trip Day 4. A few days ago, Clemens contacted the local Electric Automobile Association and told them about our trip. Via the grapevine, a man called Bernie Karl heard about the project and invited us up to his resort about 60 miles north east of Fairbanks. He promised us free accommodation, food, the renowned revitalising properties of Chena Hot Springs, and the chance to charge the car from geothermal power. He convinced Clemens that we should stay for 2 nights and assured us we wouldn't regret it. There was a bit of team opposition to taking a whole day off so early on in the trip, but given the amount of contingency time we have built in before needing to get into Vancouver, we thought we could easily spare the time. This was probably the best decision of our lives…
After a breath-taking 672km drive north from Anchorage, probably the longest day of driving we're likely to have on the entire trip, we rolled up to the gates of Chena Hot Springs at about 1am. As we drove in, the whole team were truly taken aback; nestled in among pristine forested mountains lay a collection of wooden lodges, one of which was 105 years old and built in the traditional Alaskan style. And on the right, a small lake was partially shrouded in steam; this was the legendary hot springs which draws in over 100,000 visitors a year and something which we were very much looking forward to exploring in more detail!
But, business had to come first! The car had only a few per cent of energy left in the tank, and it needed a charge. Maurizio, a very friendly Colombian and employee of Chena Hot Springs, welcomed us and showed us to a massive green hangar at the back of the 564 acre property. After prodding a number of different sockets with the voltmeter to ensure we could find the ideal socket for some fast charging, we plugged the car in. A faint whirring could be heard from the room next door, and upon further investigation we found 4 large cylinders and associated pipework. These were geothermal generators and were pumping out 400kW…and our car was plugged into it mere metres away! The SRZero was literally being charged from energy taken straight out of the earth with absolutely zero CO2 emissions. Given the very long day though, we decided to turn in for the night and leave the exploring for the next day.
After a fitful sleep on some very comfortable beds, we met Jenny Kirch, a fellow Brit, who runs the resort on a day to day basis. She assured us Bernie was on his way to meet us for lunch, and while we were waiting, she suggested we accompanied her to see some dogs. Chena Hot Springs is home to over 200 fit and lean sled dogs that race every year in gruelling 2 week races through the snowy wilderness. For some team members who are particularly keen on the canine species, this was a particularly enjoyable experience, topped off by seeing two 2 week old husky puppies fast asleep in their kennels!
Next up was lunch with Bernie who turned out to be a real character! A man with more stories and life experiences than you can shake a stick at, he thoroughly entertained the team over a sumptuous lunch. We were advised that the food was good, but we weren't prepared for the gastronomic delight that awaited us. The majority of the team sampled the clam chowder and salmon burger…words cannot describe the tastiness! Continuing on the food theme, the dinner we had later that day was of a similar nature; clam chowder again to start, and a rich creamy salmon pasta. I must stop writing about the food now because the mere memory makes me salivate too much! But a word of advice, if you ever find yourself in Alaska, this is the place to eat.
After lunch, it was time for a quick tour of the facility. Bernie took us over to the geothermal plant and showed us some really incredible engineering. In essence, the whole system is like a giant refrigerator operating in reverse, using hot water taken from the ground at 60°C and rejecting water back into the earth at around 40°C. It is the energy extracted from this temperature difference which powers the 400kW worth of generators.
Next up was a tour of the greenhouses which were, again, powered and heated by geothermal energy. One of these greenhouses was actually the largest temperature swing greenhouse in the world, allowing plants to be grown even in the frigid Alaskan winters. This was just another notch in a facility really taking green and sustainable engineering to the limit. Then, we walked over to Bernie's pride and joy; a true marvel of art and engineering! Imagine a small hangar with large, heavy, wooden, medieval-looking doors. Nothing particularly special from the outside, but once you walk in, you are suddenly transported to a different world; an ice palace!
Everything in here was made of ice; the walls, the bar, the bar stools, a toilet (!), several beds, and a number of ice sculptures that take your breath away with their realism and beauty. The whole chamber was lit with super-efficient coloured LEDs as well as fibre optics piping in light from the outside, all in a bid to reduce the amount of cooling needed to keep the place cold. After a tour of the ice wonderland, we were invited to sit down at the ice bar for some appletinis served in hand made martini ice glasses. After being plied four such beverages by Bernie, who insisted we always needed an extra drink, we stumbled out into the bright and warm Alaskan afternoon!
From the ice palace, we began sauntering over to the hanger to give Bernie a ride in the car. However, half way across he was struck by a brainwave; "Would we like to go and see some bears?" he asked. These were a pair of the world's biggest black bears apparently, and they were being fed by a good friend of Bernie's about 30 miles away. Our answer was a resounding "Yes please!" So we jumped into the Chena Hot Springs minivan, and headed over.
After meeting a wonderful couple who are both biologists and look after the bears, we were shown over to the bears' 3 acre enclosure. The bears, named Samson and Delilah, lumbered over for their sumptuous meal; a mixture of apples, pears, oranges, egg, salmon, bread, milk, dog food, grapes and blueberries, and settled themselves down for some quality munch. Despite their immense cuteness (they look exactly like the teddy bears you would find in a toy shop!) you could see their muscle rippling beneath their fur, and we were reminded that while these bears were accustomed to humans, they could still be vicious if provoked. Fortunately, the bears remained completely relaxed in our presence, and gulped down their meals with gusto. Before long, they waddled back into the forest and it was time to head back after an awesome and quite surreal experience!
Upon arriving back at Chena, we met up with Claudio who had just made it over from London in order to start filming the trip down the Pan-American Highway. After introducing Claudio to Bernie, we headed off for the aforementioned dinner to really test limits of how far our stomachs would stretch! Afterwards, it was time to relax after a long and very exciting day, and what better way to do so than by having a swim in the legendary hot springs. As natural as they come, with no chlorine or any other chemicals added, this rock fringed pool lay steaming on the edge of the complex. The smell of sulphur filled the air as the team dived into the warm and soothing waters. After a refreshing and revitalising swim, it was now time for bed!
Many thanks go out to Maurizio, Matt, Jenny and Bernie for making our stay so fantastic…we hope to see you again soon!