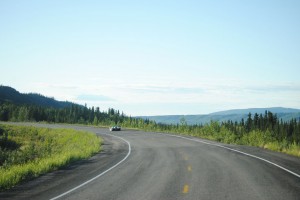 On Trip Day 3 we set off from our base on the outskirts of Anchorage to Fairbanks, over 420 miles away! The team was up late making sure that everything was sorted for the journey ahead, and then of course we had to be up early at 6am to set off for the first long range test of the SRZero on the American continent!
The journey would be split into 2 legs with RGE stopping over for lunch and a top up charge at an RV park along the way. These parks are proving to be great locations for electric vehicles as they already have the charging infrastructure in abundance. Of course there are a few teething issues such as plug sockets not necessarily matching and sometimes the fuses are not rated high enough – but these are small issues and are easily overcome.
On to the drive itself, and what a drive it was… For much of the journey the team were staring open mouthed at the sheer scale and beauty of Alaska. Most of the team had expected the landscape to be a forested wilderness with sparse settlements and hints of oil industry dotted around. And to an extent, that is what it is, but that simple does not do it justice.
Around every corner, a new mountain would spring up, changing the complexion of the landscape in the blink of an eye. Their sides were packed with tens of thousands of trees and the whole swathes of forest covered the floodplains.
It is truly a humbling experience when you try to comprehend the scale of the forces that created this place. Normally when driving through such an unspoiled landscape you might expect to feel a pang of guilt as the emissions spill from your car. But in our case the drive was guilt free and our jaw bones were aching as stunning landscape was followed by stunning landscape around every corner.
So after using up the memory cards on the RGE camera we finally made it to our destination 56 miles past Fairbanks. The place we arrived at was Chena Hot Springs which we will tell you all about in the blog tomorrow!