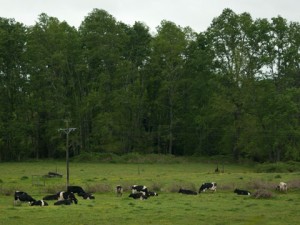 Today marked our final complete leg in Chile with a 410km drive to Osorno, and we started out the drive at 9am amid bright sunlight and blue skies. But after about 150km, the weather had completely changed; it was cold, overcast, grey and raining; it felt like England! Even the lush green vegetation was reminiscent of northern Europe, and several parts of the drive could very well have been in the English countryside.
Anyway, despite the rain and cold, we powered on. We are so focussed on reaching Ushuaia now that it would have to take some pretty extreme weather to stop us from driving! Nonetheless, our aim is to stay safe and to get to each day's destination as quickly as possible. And, due to the good quality of Chilean roads, we were able to arrive in Osorno after just 6 and a half hours, including a lunch break! This leg had perhaps the highest average speed since leaving the US, and we arrived at the hotel well before 5pm.
Aside from the rain, which is the first we have had since Pasto in Colombia, there was literally nothing to report for the entire drive. It was one of those days which was completed quickly and efficiently with the minimum of hassle, and this is what we need on the home straight! So, apologies for not being able to thrill with more drama, but I have a suspicion that our crossing into Argentina tomorrow may bring about a bit more of a story to tell…watch this space!
7 driving days left until Ushuaia!