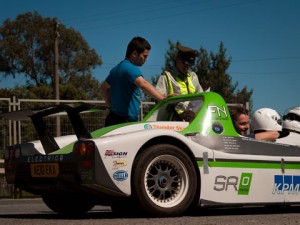 Today we had another short leg of around 250km from Talca to Los Angeles, and whereas we would normally leave early, at 12pm we were still at the hotel. The reason for this is that Claudio and Chris were still back in Santiago, and we were waiting for them to catch us up before leaving them even further behind. The reason for this is that a couple of days earlier, Claudio's camera had broke and he had asked for a new one to be shipped in. However, it had been held up in customs, so he decided to wait one extra day to see if he may be able to get it released.
Unfortunately, customs did not release the camera, and so he arrived at the hotel empty handed. Fortunately though, due to his good organisation, he did have a backup camera to film with to ensure that all the moments were still captured in glorious detail! In addition, during our stay in Santiago, he had managed to get his hands on the same camera which he could rent for the remaining few days, so all is well (Sony kindly sponsored this cost for him).
This is actually a point I have yet to mention in these blogs actually; so far, I have told the story of RGE and the trials, challenges and fun we face on a daily basis. However, we are travelling with 4 other people as well; Claudio, Paul, Chris and Cynthia, and they have their own challenges alongside a mountain of work to do as well. Yet with a dedication and focus which easily matches our own, they have managed to come through it all, and when the documentary is complete, I think their efforts will become fully apparent.
Anyway, back to the day at hand. Claudio and Chris arrived at the hotel, and after a quick lunch to ensure that we wouldn't have to stop mid-drive, we headed off into southern Chilean sun. You may be wondering why, for the second day straight, we are doing a slightly shorter leg. The reason for this has to do with our crossing into Argentina which was scheduled for the day after tomorrow, and which is around 700km away from Talca. The plan was to arrive at the Argentinian border early in the morning so that if there are problems here, we would have time to react.
So, in order to reach the border first thing in the morning, we needed a place to stay close by, and this would be Osorno. And, in order to drive the 700km to Osorno, we needed a city of sufficient size somewhere in the middle of this distance  for us to stay and recharge the car. As such, this is the reason why we found ourselves heading to the Chilean version of Los Angeles!
In some ways we were all glad that the drive was an easy one again, with perfect weather and straight, unblemished roads. But on the other hand, the challenges that we had faced in earlier sections of the trip were missing, and in some ways we wanted them back! Nonetheless, the important thing was that both the car and the occupants were less at risk with these kinds of conditions, so all in all it's a very good thing. The scenery was fantastic too, with the mighty Andes running parallel to us on the left, and their permanently snow-capped peaks glistening in the afternoon sun.
The rest of the day was completely standard; I'm sure you can guess what happened next! We put the car on charge, checked into the hotel, and then went off to grab some food at a delicious local restaurant.
Only 8 driving days kept to Ushuaia!!