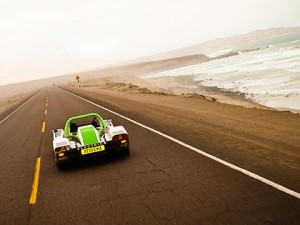 An exciting coastal drive of 240 miles awaited us today, and after the later than usual start, we were packed, breakfasted, and back on the road by 9.45am. Unlike many of the other small towns we have stayed in on our journey through Peru, this was actually a place you wouldn't mind spending a few days relaxing, and so it was a shame to leave it so quickly, but time is of the essence as they say!
Unfortunately, there is very little for me to report from today aside from the road turning a little sour for a small section of the drive, but other than this, it was as smooth as we have begun to expect from Peruvian roads. The barren desert continued, however today the scenery did feel that little bit more spectacular as we wound our way up and down mountains right along the ocean.
At almost all times we were in view of the sea and the huge Pacific waves which were crashing onto the shore. The air was fresh and salty, and it truly was a great drive. One thing of note though were some of the road signs; every so often there is a sign warning you of a foggy or sandy patch. The interesting thing was how accurate these signs were because literally at the point they were situated, either the sky would turn cloudy or you would begin to get sandblasted as the wind picked up the sand and blew it across the road. This is a testament to how stable and predictable the weather here is!
As usual, aside from the odd camera shot and lunch, we didn't stop until we reached our hotel in Camana. Once again, the car was quickly put on charge (we are getting very good at this by now!) and we were able to make it out to dinner and back in time to get a very good night's sleep!