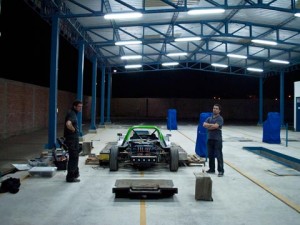 Lima to Ica
Despite the relatively short drive we had planned today, only around 300km, we had a lot to fit in what with a visit to the University of Lima and a trip to Salvador and Fernando's race track. So, after our alarms ringing at the hideous time of 6.30am, we arrived at the university at 7.45am with the aim of giving a presentation and mixing with the students before leaving at 9am sharp.
Despite the very late night and early start, we were all feeling great, and Toby managed to deliver a very impressive presentation completely in Spanish. We had time for a few questions afterwards, but with our deadline rapidly approaching, we thanked the university for hosting us, and we headed on our way. Our impression of the university was excellent; they had clearly invested a huge amount in their buildings and infrastructure which again, like we saw in Medellin, just serves to show how up and coming Latin America is.
The 50km drive out of Lima south to the race track was quick and easy, and before long we were back out into the wide open desert landscapes we had begun to know and love. A sharp turn off the Pan-American Highway followed by a short stretch of dirt road brought us onto the smooth, pitch black tarmac of the race circuit. It was in quite spectacular surroundings with reddish mountains on one side, and a small airfield on the other with planes flying overhead coming in to land…quite dramatic!
Initially we had planned to do some testing on the track to see if our changes to the wheel alignment had made a difference to our range, however, upon driving the circuit we realised that it was not going to be representative of the typical driving that we do and so would not give us accurate results. As such, we decided to enjoy our visit by taking Fernando, Salvador and some others for gentle laps of the track, followed by some pictures for the press that were there as well…we would save the testing for the road.
We spent around 2 hours at the track before getting back on the road with the warm desert sun on our backs. Aside from a small break for lunch at around 3, we powered on towards Ica where we arrived at around 6pm. Here we were welcomed by Giofranco who works at Revistar, a vehicle testing centre so new it had yet to be inaugurated. The facility was absolutely first class with top of the range equipment, and we were warmly welcomed and told we could charge here and conduct any work we may need to do on the car.
It had in fact transpired that the wheel alignment was not making any difference to our range whatsoever, and that there must be something else at fault. Our next suspicion was that perhaps a component had malfunctioned giving a higher electrical resistance than normal and thereby giving rise to higher currents and higher losses to deliver the same power as before. This would follow what's called a square law whereby if one doubles the current drawn, you quadruple the energy losses, and this would be roughly consistent with our findings whereby under normal low power cruising conditions, our range is normal, but even marginal amounts of acceleration served to reduce our range noticably.. And so, we set to work on the car to try and find the solution.
Work lasted late into the night in our bid to reinstall part of the BMS which was removed in Cartagena which would enable us to isolate the problem. As is typical, we saw other things on the car which could be improved as well, and these were addressed too. But by 11.30pm we were absolutely exhausted and it was getting to the point where accidents could happen while being so tired around a live 550V battery pack! As such, we called it a night, put the car on charge, and headed to the hotel for some sleep before continuing the following day!