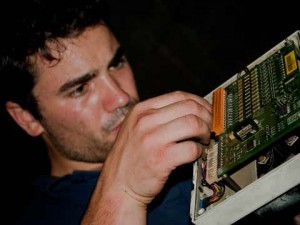 With yesterday's good news, we were eager to carry on working on the car in order to have it ready in time to leave Cartagena on Friday. As we have learnt time and time again on this project though, absolutely everything takes longer than expected, and yesterday was no different, so time was of the essence. Today though, we had help from Mauro, an electrical engineering student at the university, who very kindly gave up his day to help us get things done faster. So when we needed to go and buy equipment or complete other tasks, he was on hand to help us get it done faster than we could on our own.
First and foremost, we went to a really great shopping mall, replete with a very extensive hardware store, to pick up a few essentials. This included some 6 strand cabling for the fire-damaged communications bus, some sand paper to give our fibreglass work an extra smooth finish, some high temperature silicon to seal the front headlights (this region was letting in a bit of water which was fogging up the headlamps making them quite ineffective), and some bits and bobs to ensure that the support van could remain tidy.
On this note actually, I haven't spoken much about the support van. It has been the stallion of the trip so far and is useful in many different ways, from carrying our extremely extensive amount of kit, sheltering us in bad weather, providing an extra place to sleep at night, or to intimidate little cars who are going too slowly! The problem is that with all this kit, and some of it being used at different times, and everybody getting in and out of it constantly, it gets somewhat messy at times! That's actually an understatement; it looks more like a pillaging army has just stomped through and wrecked the place. But honestly, we do try to keep it tidy!
Every morning before we set off to drive, we pack the boot neatly and give the front a thorough clean. But without fail, by the end of the day it is filthy again! So these bits and bobs that we bought, such as plastic boxes, are for the sole purpose of trying to alleviate this problem. Clearly a woman's touch is missing, but rest assured all you mothers out there, us boys have been well trained and we're doing our best to keep tidy!
Anyway, on the far more interesting side of things, we got back down to work on the car upon returning from the shopping centre. The most important thing was to ascertain was whether the BMS was still fully operational. We have enough spare components for one BMS slave failure, but there are 14 such slaves and with all our spares being used to fix the one damaged in the fire, we were very anxious as to whether or not there would be any other damage.
However, after hours of hot and sweaty work, Toby and Nik had managed to test the system and, extremely fortuitously, everything was in working order! Again, some very good news for the team. This does mean that in theory, with a really hard day, we could get the car driving again in a day. But our promise was to do a really thorough overhaul on even completely unaffected areas of the car, so as to make damn sure that it will last to Ushuaia and for a long time afterwards as well! With this in mind, further inspection of the car commenced.
While Nik and Toby were busy on the car, Andy, Clemens and myself organised the move to the new apartment, got all our bags across, and ensured that this aspect of the project was all sorted. Then while Andy continued working on the PR and Clemens on logistics, I took the van for an oil change, something that the inboard computer was begging for for a good 1,000km! This is just one of countless examples of how well the team works together and how good the team spirit is. While we can all work very well together, we are also equally tenacious, forward thinking and conscientious when working as individuals so tasks still get done to a high standard even when we all split up to do different things. From a project manager's point of view, it's a pleasure to not have to dictate every move and to be able to rely and trust each team members' judgements for the vast majority of the time. It makes me very proud to be part of such an establishment, and this includes the members of the team that unfortunately decided to stay back in Europe!
With work on the car coming along at a solid pace, the team is really looking forward to getting back on the road. However, we are really grateful for being delayed in Cartagena; it's a truly beautiful place with a really friendly population, and it's great to be able to see and experience the side of Colombia that isn't consistently in the media!