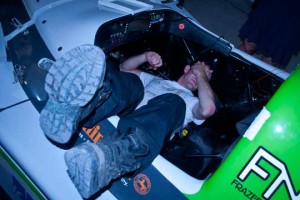 As you may have guessed from the title, our bad luck didn't end yesterday; we had a very solid dose of it today (Friday 17th) as well! For me, the day was very much a continuation of the day before as I stayed up the whole night watching the SRZero. It was pleasing to see that the car park we were in was relatively safe; there was some activity going on throughout the night, but nothing particularly untoward. The morning finally came though, and I was very pleased to see Nik and Toby enter the car park to relieve me from my watchman duty. I made my way back to the hotel to have a shower while they got down to figuring out what went wrong with the car.
Meanwhile, Andy was taking over some of Clemens' duties by sorting out the insurance for all the vehicles. This is no mean feat given the amount of paperwork needed to do anything in this part of the world, but by lunchtime he had succeeded and there was a general air among the team that our luck had turned a corner and that we were back on the up. In addition, we had contacted all the people and organisations we were due to meet further down the route to inform them of our delay, and every single one of them remained 100% supportive, wished us the best of luck, and made arrangements for the events to be postponed. All in all, very good damage limitation; aside from the delay and the problems with the SRZero which can always be fixed, everything was fine.
But then we heard from Toby that while the damage was not that extensive and was indeed very fixable, there appeared to be a big problem with the BMS master board as it would no longer communicate with the computer. While he wasn't certain what the problem was caused by or whether or not there was a fix without getting an entirely new board, it was a potentially very serious problem, and the various scenarios and implications had to be discussed. As such, the team soon found themselves sitting round the lunch table discussing our options.
Many options were discussed, but before any well informed decisions could be made, we really needed more information on the problem. So with us all reenergised from the food, we set off on our various tasks. For Toby, this entailed driving back to the car park where the SRZero was stored, and doing some more diagnostics. But upon returning to the van's location, he discovered that it had in fact been towed for some parking infraction, and with this, all our tools and equipment needed to make progress on the car as well! With all this happening on a Friday afternoon, it was beginning to look highly unlikely that we would be able to get our van back before Monday, thereby delaying us significantly!
Despite our best efforts, we couldn't make any headway into retrieving the vehicle. Nobody knew who took the van, or where they took it, and of course the fact that it was a Friday afternoon was definitely not helping either! So we had no choice but to call our guardian angel; Mercedes. No, not a German car, but a particularly lovely lady who works at the Colombian Embassy in London. We had the pleasure of meeting her last year, and ever since then she has been helping us out with our Colombian leg. She always seems to be able to get the most impossible of things organised in a very short space of time, but we thought she would have met her match on this occasion.
However, in minutes, she had everything sorted out! She knew where we had to go and who to talk to, and very quickly we were standing outside the necessary building ready to do the paperwork to get our van back. However, for the second time in as many days we were thwarted by the security guard. He wouldn't let us in the building despite telling him the whole story and that we spoken to the embassy blah blah blah. So we called up Mercedes again, passed her on to the guard, and within seconds he was apologising to us and opening the door. I would love to know what she said to him!
By this time it was around 6pm and we were surprised to see anybody in the office at all. But there were loads of people, and as it turned out they were having a big valentines day party and everyone was joining in the festivities (Valentines Day here is celebrated in September). However, some people stopped their fun and came over and helped us; amazing considering they were not technically on duty! Shortly after explaining to them the situation, they had the paperwork being filled out, and were in contact with the policeman who towed the car (a necessity for getting the car released). Unfortunately however, there was some paperwork that we needed to get from the hotel, so I rushed back to the hotel to retrieve it while the other paperwork was completed. Getting back just in time, we managed to get everything signed and sealed. Next up, we drove over to the impound where our car was being held, and picked it up. Phew, disaster averted!
However, despite our best efforts, we were still unable to locate a suitable location for the SRZero to be stored. The thought had crossed our minds that we could trailer it further down the road to Medellin where we had guaranteed lab space at the university there, but the thought of cheating the next 320 miles was very off putting. So for this reason, the SRZero spent another lonely night on it's own in the most desolate of parking lots. Let's just hope better things are to come!