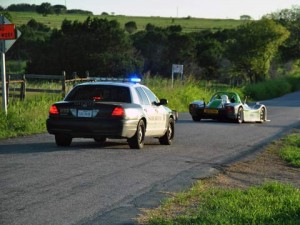 After the previous night's excitement, the team was keen to get in a good night's sleep. But time was of the essence; we had a wind farm to visit and another 290 mile drive ahead of us, so it was with great effort that we awoke on time and rolled out of the hotel exactly on schedule!
It is perhaps the right time now to mention RGE's timekeeping; throughout the project we have tried exceedingly hard to stick to a planned and well thought out schedule, and this has served us extremely well. Here we were, after a month on the road and over 10 months since we promised National Instruments to be in Austin on or before the 2nd of August, just 290 miles away from our final destination. But we've come to appreciate Sod's Law whereby things just seem to go wrong at the most inopportune time, so we were not counting our chickens just yet!
Anyway, a short drive from the hotel and a quick detour off the main road, we found ourselves driving through what was, by far, the biggest collection of large wind turbines I had ever seen. Off into the horizon they stretched, and it was here, in the midst of these giant machines that Andy and myself did a piece to camera about wind energy, what's good and bad about it, and how their use relates to electric vehicles. The video of this can be seen at http://www.racinggreenendurance.com/videos.php.
After our quick video shoot, which lasted for around an hour, we headed onwards, and when hunger struck we stopped at a restaurant promising an all you can eat BBQ. I think by now you've heard too many of my endless food ramblings, so I'll leave it out and save it for later, but suffice to say that the food was really exceptional! It was one of those perfect days; great weather, car driving perfectly, delicious food, but as always, just at the time you least expect it, things go wrong…
Rick suddenly announced that he would be leaving us. This may not sound like such a big deal, but for us it was. For weeks he had helped Claudio with the filming, helped navigate, entertained us all with great stories, and was an all round amazing travel companion. For personal reasons he had decided to leave, and while we are upset to have him miss out on the fantastic journey ahead, we wish him all the best for the future. He was at least planning on coming with us to Austin, so we vowed to give him a night to remember, and we got on with the driving.
The scenery was spectacular, and drive was only broken by a couple of stops by the local police. This was our first time being stopped since Yreka in California, and we were beginning to notice a very spooky trend. I will embellish more on this in a special blog post, but for now all I can say is that we were beginning to see a very unusual pattern emerging. But anyway, we carried on rolling through the countryside, which looked very similar to the English countryside, with rolling meadows fringed with oak trees; very different to the preconceived perceptions we all had.
Finally, the glistening city of Austin appeared in the distance. Smart but not ostentatious sky scrapers sparkled in the distance, and our final destination was almost in reach. I say almost, because we had one further obstacle to navigate; the STOP signs. In the US, these signs are at every crossroad where there isn't a traffic light. The idea is that from whatever direction you come from, you come to a complete halt, and whoever came to a complete halt first, gets to go first. On the route into Austin, there was an long section of junctions with these signs, and so I did what I was taught in the UK; slow down as you approach the line, but if there is no one coming, then carry on through. I did this 3 times before a flash of red and blue appeared in my mirrors and I was forced over by a police car. Two more cars subsequently joined the fracas.
The police surrounded the vehicle, and one of the officers came up and asked how many more stop signs I was intending on running tonight. I explained my reasoning that in the UK, stopping when no one was there is considered an entirely pointless exercise. While he agreed, he still said it was against the law and at all times, one must come to a complete standstill at these signs, regardless of the number of cars in the vicinity.
After checking my driver's license and conferring with his colleagues, he said it was stupid for him to give me a ticket as I would soon be out of the country anyway, but he did proceed to give me a warning ticket, which fortunately is not recorded and as he put it "will be merely a souvenir from your trip to the US". Phew!
After the police disbanded and left us to our own devices, we headed a few blocks south towards our hotel, the Marriot on 4th street, which NI had kindly provided us. Upon arriving, the hotel staff were delighted to have such a car in their driveway, and promptly freed up a spot on the concourse where we could safely leave the car in full view. It reminded me a lot of our experiences at the Fairmont in Seattle, and the Mirage in Las Vegas.
However, the overwhelming feeling among the team was that we had made it exactly on schedule! After months of planning and over a month on the road, we had arrived exactly as promised. We had pushed so hard for this moment, often leaving very early in the morning to keep our schedule, especially in the northern section of the trip through Alaska and Canada. On any one of these days, had we not been bothered and just had a longer sleep, we would not have made it to Austin on Sunday night. I must congratulate the team, and all our supporters and sponsors who have helped us along the way, for the most incredible sustained and determined effort to make this happen!
We had to celebrate. Apparently 6th street was the place to be, and so after throwing our bags in the hotel room and having a quick dinner at the hotel's restaurant, we headed the two blocks towards 6th street. It was a really great place to party; very European in style with bars and cafes spilling out into the street. Along with Rick and Claudio, we enjoyed our first night in Austin until the early hours of the morning!