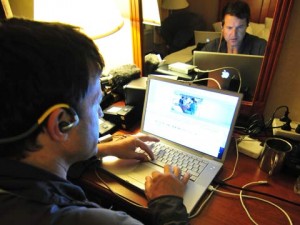 The team woke up eager to get going, but we were, once again, confronted by charging problems. Just as we had seen previously, a circuit breaker had mysteriously tripped, despite being amply rated, and our car was sitting there in the car park with precious little charge over what we had left it with the night before. So our only other option was to get it charging again and wait it out.
Perhaps here is a good point to mention tow charging. A few people have let me know that they disagree with "our continued use of tow charging". We completely agree, and I would like to point out that this was done on just 2 occasions when we were up in Canada as a complete last resort. We wouldn't even be able to tow charge anymore as our support van does not have a tow hook from which to do so. As such, you will be pleased to know that this will not happen again!
Anyway, with the car on charge, we spent the day working and catching up with our preparation for our presentation at NI Week which was due to start on August 2nd. But the fact was that we had to wait for the next morning to push on, and so there is not much I can report on the trip's 31st day!