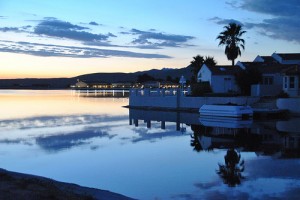 The plan for today was a little complicated. We needed to progress towards Las Vegas, but at the same time, we had to go back in the opposite direction towards Los Angeles in order to pick up 2 power supplies which would help speed up our charging given that 2 of them were now crippled and back in the UK for repair. So, Toby and I woke up at 5.30am to take the support vehicle to LA while a few hours later, Nik and Pambo were due to wake up and get the SRZero driving towards Las Vegas. The plan was for us to drive back through Helendale, pick up the other members of the team, and then head off to Vegas.
As always though, it was never as easy as expected. While Toby and I were on our way back from LA, we heard from the others that the chargers had tripped the circuit breakers in Kyle's house early on in the night and we had nowhere near enough charge to make it to Vegas today. Damn!
So, after resetting the circuit breakers and getting the car back on charge, all we could do was wait. The hotel was kind enough to let us hang around for a bit longer without paying, but soon they kicked us out and Kyle welcomed us into his home for the day. Here, we made best use of the internet by catching up on emails, web updates, and blogging. But soon the lake (yes, a lake in the middle of the desert believe it or not!) beckoned and we had to take a quick swim and kayak in the lake to refresh ourselves.
However, other than work and the occasional swim, not much else happened aside from checking on the car and ensuring that it was charging, which it was. We calculated that the car would be ready for the drive to Vegas at 5am the next morning, so we took the opportunity to catch a few hours to sleep before the early start.
Throughout the day, Kyle allowed us free access to his house and possessions in a demonstration of complete generosity and relaxation, despite how keen he was to have a drive in the car. In fact, Kyle was the coolest, most laid back guy we had met so far on the trip, and it was really great getting to know him while stranded in the desert. So, a big thanks from team RGE to Kyle!