Beaver creek was a great place t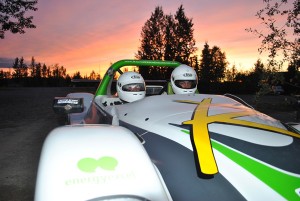 o stay for the night, with a whole bunch of really friendly travellers. In fact, we met a family that had just travelled the road we were about to drive, and vice versa, so we traded tales of the road ahead while hunched up over a map. The prognosis for the next 100 miles was dire, with recounts of lots of gravel and very bumpy roads. In fact, we were told from a guy in an SUV, with an outrageously high suspension setup I might add, that we would never make it across the next 100 miles…
Waking up to a cold and heavily overcast sky with the aforementioned warnings ringing in one's head would have deterred many travellers, but not us…we were fired up and ready to go! I strode out onto the Alaskan Highway, took a sniff of the wind, looked towards the horizon, and strode back to the team confidently predicting blue skies in 3 hours. Where I plucked this figure from, I am still trying to work out, but it turned out to be a very accurate forecast, and before long we had the road ahead and blue skies above.
In some ways, the people we had spoken to were right; the road was indeed terrible in many places. But what onlookers don't realise is how nimble the SRZero is, and where others in their big pickup trucks have to slow down to go over large dips in road, our short wheel base, low centre of gravity and racecar-like handling means we can swing round these obstacles at relatively high speeds. In addition, our ground clearance is deceptively low, and so far we have not found a road obstacle which prevents us from passing.
To say we sped down the road would be a bit much as we certainly had to temper our speed a fair bit over the first 100 miles, but what excitement we lost by going slower was more than made up in the scenery. Breathtaking views abounded, with snow capped mountains, wild rivers and miles upon miles of virgin forest at every turn.
Our first stop came 116 miles later as we pulled into a small town called Destruction Bay. The name comes from a camp that was used to build the Alaskan Highway which was destroyed during a violent storm that raged off the neighbouring Kluane Lake; a huge 400km2 body of water. We stopped for lunch at a small restaurant on the shore of the lake, and then headed down to the lake to stretch our legs. In doing so, we found the cutest and friendliest Labrador who was intent on playing with us as much as possible. But time was ticking on, and we had to leave the dog to his own devices and complete the next 164 miles.
Now I know I keep on babbling about the scenery, but each and every day has a different landscape which is quite incredible in its own right. Today was no exception as we followed the shoreline of the entire 70km long lake as it twisted and turned at the base of the mountains. The road improved dramatically and it was an easy drive over to Whitehorse, the capital of Yukon. Despite a bit of anxiety in the last 50 miles or so as to whether or not we'll make it all on one charge, we arrived with a comfortable 7% left.
As always, however, there has to be some drama. This time, it began at the RV park as we plugged the car in for a charge, and in doing so noticed that one of the chargers had something rattling inside it. Upon further inspection, we found the culprit; one of the small electrical components had failed and fallen off its mountings. This was possibly due to the quite varied electricity sources we have experienced out here in the wilderness i.e. non-grid connected electricity.
So we continued charging off just 2 chargers which is really not a problem as we can still charge from empty in 12 hours. But then we noticed that one of the other chargers was not delivering any power, despite the fact that all the lights and indicators were positive. Further investigation found the same component at fault as the previous charger.
Now, we are perfectly able to charge off one charger, but it can take up to 25 hours to do so, and this is really pushing it if we are to make our deadlines in Vancouver. Fortunately, we had internet access so we could Skype more knowledgeable people in other parts of the world and we could research where we could get replacement components. After a lot of calling and research, we found out what the problem was and how to fix it, but locating the components proved more tricky as evening dawned and people went home from work.
As such, the team went to bed with a real challenge hanging over everyone's heads…how were we going to get these spare components come daylight?