Today was a great day for just one simple reason…20 crates of Ubershot arrived for the team!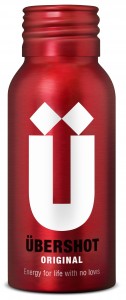 "What's Ubershot?", I hear you ask.  Well, both myself and the entire RGE team will testify to Ubershot being the best energy shot out there.  There are plenty of companies that have come out with various forms of energy shots, and as a fairly experimental bunch, we've tried them all.  But all of them either have loads of sugar, taste horrible, or leave you with a massive low a few hours later.
But not Ubershot!  True, it does have huge amounts of caffeine in it, and it wakes you up faster than being stung by an elephant taser, but come a few hours later, there really are no lows!  The car you've seen whizzing around would not yet be whizzing around had it not been for the help of these wonderful little red bottles during the long all-nighters we've pulled.
So, a big thank you to Ubershot for sponsoring us with over £400 of no-more-tiredness!