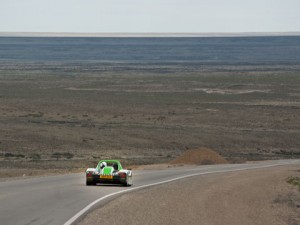 N.B. Sorry for the delay in blog updates; Internet accessibility has been non-existent. You'll see why in the next blog post!
Today, in contrast to pretty much every other recent driving day, was blissfully relaxed. We only had a 220 mile drive into Rio Gallegos, Argentina's largest southern city, so we could afford to catch up on a bit of sleep. The last few days had really drained us, and as we are now so cautious to not mess anything up before the finish, we decided that more sleep is safer than less, despite the later leaving time this would entail.
Nonetheless, we were all up at 9 o'clock, and after showering, getting ready, and generally taking a long time about it, we were ready to leave at 12pm on the dot. Surprisingly for this far south, the weather was boiling! When we were packing the van, if you were wearing anything more than a tshirt, you would start sweating.
Anyway, we got on with the drive south to Rio Gallegos which was also our last stop on the North/South American landmass. After this we hit island territory as Ushuaia is located on Tierra del Fuego which is separated from the continental landmass by the famed Magellan Straits. However, for now we were just concentrating on the drive; no mistakes, no close shaves, just a solid and safe drive all the way to the finish.
Each of us were thinking the same thing in that we had come so far, risked so much and worked so hard for anything to happen in the final stretch. So, when Clemens got behind the wheel of the SRZero today in what would be his last drive in the pioneering car before the finish line, he was focussed more than ever on making sure absolutely nothing goes wrong to jeopardise our position…tension was running high!
However, much to our delight, the road conditions throughout the drive were excellent, and we were able to keep up a good average speed and fit in a delicious sit down lunch in the only building between our 2 stops. That really gives you an idea of how remote and isolated this part of the world is; in 220 miles we saw only 1 building which was a petrol station with an adjoining restaurant. That's it! If anything were to go wrong, you would be truly on your own!
Fortunately, nothing did go wrong, with us at least (more about this later) and we arrived in Rio Gallegos at around 6.30pm. An old racing friend of Sebastian called Gonzalo Sanchez was there to meet us and take us to our charging point, which in terms of location, was a first for us; we were to charge at a race track!
After the car was put on charge, we had a barrage of local press turn up all keen to know what a car like this was doing at the bottom of the world. We spent quite a few hours fielding these interviews before the next phase of the day began. Here in Argentina, everything happens a lot later than it does in Europe, so don't be surprised when I say that we left the race track at around 9.30pm, went to the hotel to check in, and were then invited to Gonzalo's family's home for a sumptuous dinner of empanadas.
However, it didn't stop there; after the meal where we were made to feel very much at home, we moved on to the next activity…go karting! We returned to the race track at around 12am, and the go kart track was absolutely buzzing!  We set up a mini tournament splitting Sebastian and Gonzalo between the 2 heats as they were both pro racing drivers, and the rest of us drawn randomly. The winning 3 from each race went through to the final, and after all was said and done, Nik took the title at around 1.30am!
It was even more fun than our previous go karting experience in Santiago, and the track was really fantastic. The karts were more equal than last time, although there were still significant differences in the way they handled. After this, we headed back to the hotel for some much needed sleep!
We were now within striking distance of Ushuaia! All over the town we could see signs directing us to Ushuaia, and we could not wait to travel the last 550km! However, the bad news which I alluded to earlier would prevent us from leaving tomorrow as planned. The alternator on Chris's bike had failed which meant that the bike could not be started as normal, and that the lights wouldn't work. This occurred while Claudio was riding it out in the wilderness, and the only way he could get it all the way to Rio Gallegos was by push starting it!
Anyway, it was essential to have the bike with us all the way to ensure Claudio could film the last few kilometres, so we gave Chris the next day to fix his bike, which meant we wouldn't be leaving until Saturday. This wasn't too bad as we are only due in Ushuaia on Tuesday now to allow for more government officials and press to make it down to see the finish. As such, we still had 2 days contingency to cover us for one of the most risky roads ahead; the 100km of unpaved gravel "roads" of Tierra del Fuego!
Only 550km left!