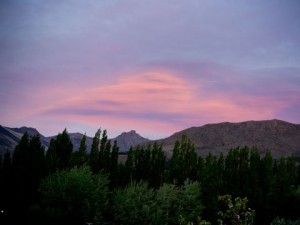 We had discovered late the night before that the circuit breakers where we were charging were not able to withstand the current they were rated to, and as such kept on tripping after a few hours. This means that we had to turn down the current we were drawing, and this meant that we were not fully charged up the following morning; the charging monster had struck again!
However, due to good planning and a momentous effort from the team, we had actually made up time in travelling between here and Santiago and so we had 3 contingency days between here and Ushuaia. So, rather than leaving in the afternoon after the car had charged and take the risks associated with driving at night, we decided to enjoy a day in the beautiful town of Esquel.
The day started out with us grabbing breakfast at a really beautiful cafe replete with comfy sofas and fast Internet…everybody had big smiles! We got down to the usual batch of work, and the breakfast extended to lunch, and before we knew it, it was 3pm and we were still sitting in the exact same seats as we had been 5 hours ago! It was enough we had decided; we could not spend all day on our backsides working and not appreciating the fantastic weather and beautiful landscape!
So, we walked outside, sniffed the crisp clean air, and looked around for things to do. Being a small town during off season, there didn't appear much to do. However, a nearby mountain standing high above the town took our fancy, and on a whim we decided to go and climb it! So, after grabbing some jackets and changing into more appropriate footwear, we headed out.
The town was right at the base of the mountain so before long we were climbing. There was a rough path cut into the mountain side which wound its way gently to just below the summit, but we wanted a bout of more vigorous exercise so we took the wild route and trundled straight up.
The hike, for that's what it had become, was very steep with lots of vegetation afoot which made it a little difficult at times. However it was extremely refreshing to be doing something physically strenuous for a change, and after around an hour and 500 vertical metres, we reached the extremely windy summit. The site that met us from the top was quite spectacular, and we could see for miles into the empty wilderness beyond. The small town of Esquel lay beneath us, and for a while we just stood there and admired the view. Fortunately, Claudio had been thoughtful enough to haul up some drinks and cookies, which by this stage were most welcome!
After a while at the top, and after being sufficiently chilled by the wind, we decided to make our way back down, which ended up being a much faster affair than the ascent. By this time it was pushing dinner time, and after a quick freshen up at the hotel, we headed out for another delicious steak!
In order to speed up progress for the following morning where we intended to leave very early, we packed up the van after dinner with everyone taking just the bare essentials into the hotel, and by midnight we were fast asleep.
We were hoping the good weather we had experienced today would hold; we didn't want more rain!