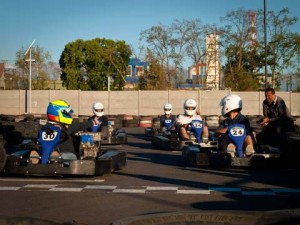 One thing the team finds very difficult is driving a car which looks like a race car, handles like a race car, and is effectively a race car, on the road at normal speeds. It gives one a serious need for some faster driving! And, seeing as we had 2 days free in Santiago before our press and sponsor commitments, we had set ourselves the task of getting to Santiago really quickly, and then to go go-karting! We were looking forward to some expert tips from Sebastian, a former F3 driver, and the team's competitive spirit was emerging, even though we knew Sebastian would win…
Anyway, back to Tongoy where, for the first time in weeks, we were engulfed in cloud and it was really cold. Nonetheless, we were ready to leave early and speed the 275 miles south to Santiago! Apart from a very quick sandwich stop, we drove nonstop towards the capital and we were making fantastic progress. Around half way in, I switched driving the SRZero with Sebastian, and I think he got a little carried away!
Obviously believing he was already on the go-kart track, he took the car up to quite a speed, and by the time we reached the outskirts of Santiago, we were dangerously low on juice! This is because, as in a normal car, if you double the speed you at least quadruple the amount of energy used, so going fast really soaked up the energy left in the battery pack. As result, for the last 20km into the city, we had to go a lot slower than the deserted roads would allow us. To ensure we didn't get lost, we had Caroline from KPMG meet us on the city outskirts, and she kindly gave up her day to direct us to where we needed to go.
Nonetheless, we got into the centre of Santiago with a few per cent still remaining, and Sebastian was quickly forgiven for his energy-hungry driving! Our destination was the palatial residence of the British Ambassador. He had kindly let us store and charge the car there, but seeing as no one was there at the time (4pm on a Sunday afternoon), we parked the car there and quickly hastened to the hotel in order to check in and get ready for go-karting!
Before getting on to the commentary of who won what in the ensuing competition of driving skills, I would like to say something of the drive we had coming in from Tongoy. Driving into Tongoy 2 days earlier we had noticed a distinct vegetation change, but it was still semi arid and the scenery was very similar to what we had been experiencing for the few preceding weeks. However, today marked a seismic shift in our surroundings.
For a start, we moved over from Chile's low coastal mountain range to the foot of the mighty Andes mountain range, and for much of the journey we could see the permanently snow covered peaks standing out in the distance. The scenery passed from the semidesert as recently described, into a very Mediterranean landscape before turning into the lush forests surrounding Santiago. Really, the pictures will do the vistas far more justice than I can, so please do take a look at these.
Other than the scenery though, the weather cleared up nicely, and by the time we got into the city, it was very warm indeed with blue skies above. The road surface was excellent throughout, and it was a very smooth day's driving. Chile was on a bank holiday weekend, and the streets were very quiet, and we could drive through and really see the best side of this beautiful city. It is quite unlike any other city in Latin America, and is more akin to an American/European city than anything else.
And now, back to the day's main focus; the go-karting! We made a deal with the manager of the track to give us 4 10 lap races for the price of 3, and before long we were sitting in the karts rearing to go! As an observer, the karts didn't look particularly fast, but when driving them they were perfectly fast enough for this short and very twisty track.
The first race was fast and very furious, with Sebastian taking an early lead. However, miraculously, I managed to overtake him on the 4th lap, and for the remainder of the race I managed to successfully fend him off and retain the leading position! This was certainly a surprise to me as I had never exactly excelled in this sport, but upon talking to everyone after the race, it was clear that there was a big difference in the performance of the karts. Some were good, and others were dreadful!
So, in order to balance it out, we all swapped cars so we each got a go on a range of cars so we could ascertain who was the best driver. The subsequent races became more and more competitive as we learnt how to properly control the karts, and some great lap times were set. Sebastian did convincingly win the next 3 races, clearly setting himself in a league above the rest of us, but the rest of us were very close in skill and performance. I guess this should be expected after driving the last 23,000km, but nonetheless it provided for an exhilarating afternoon where by the end we were racing in the dark! It was really great fun, and we are looking forward to a rematch in Argentina where we have been offered the opportunity to race very fast competition karts! Keep a look out for the video of today's events; it should be a fun one to watch!
After karting we grabbed a quick bite to eat, and then made our way back to hotel. Some of us went out to see something of the Chilean nightlife, while others stayed back and worked. In conclusion, it was a really fun day with a lot of exciting driving! Many thanks to Caroline for accompanying us about town, and for managing to put up with a bunch of guys talking about cars for several hours!