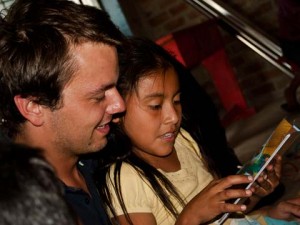 Today was a day which we were all looking forward to considerably. We had something on the agenda which was completely different to what we had done at any point on the trip so far, so we woke up in Troy's apartment looking forward to the day's events.
Firstly though we had to eat, so we started asking our hosts where we could take some breakfast. However, it turned out that our Lauren, Gabriela and Hannah had prepared us breakfast at their house mere metres away, so we walked over and indulged. Breakfast was delicious, and once we had finished we went over to the university to do a presentation to the students and staff there. This was a deal that was organised the night before when they offered us a place to charge, but prior to this we had no plans to visit this university.
As such, we were perplexed as to how a whole contingent of students could suddenly have procured custom printed Racing Green Endurance t-shirts! Literally, they must have been printed out overnight because not even we knew that we would be going to the university but 12 hours before! Anyway, we delivered the presentation which went very well after which we demonstrated the car in the car park, without crashing this time! Despite the amount of press rushing to talk to us, we really had to leave for our other engagement which for us was very important to meet.
Troy and the girls from Ayni had organised for us to go to a small, poor village around half an hour out of Piura for us to get a sense of some the real life conditions off the highway. Every day we are either on the road or in big cities and we have never really had the chance to see how people lived in the rural parts, so this was really a special opportunity to do so.
Upon arriving, a whole gaggle of children around 10 years old rushed out to greet us; apparently white people in these parts are pretty rare! They were so eager to play and to test their limited English on us, and while lunch was being prepared we played football with them in the sandy streets. This being in the middle of the desert, everything is sandy, dusty, and very hot. The people here are living in real poverty, but nonetheless had a glowing smile on their faces and were perhaps the best demonstration of how you don't have to have a great deal of possessions to be happy.
Anyway, further revelations were to come later as for now we were ushered into Ines' home, a lady from the village who coordinates the volunteer effort. She and other women from the village had heard we were coming and had prepared us a delicious meal of lamb, rice and potato salad. Despite having so little to eat they were still unbelievably generous with their food and managed to put together a meal to feed all 14 of us! The meal was accompanied by checha, a local alcoholic drink made by fermenting corn. It tasted a little like beer and was not that bad, although I don't think any of us will be asking for it the next time we go down the pub for a pint!
After lunch, the library, where the children are taught English and learn games and suchlike, was opened and we were allowed in to play games with them and see how they interact with each other. This was one of the most enjoyable experiences of the trip; completely unlike anything any of us had ever done before, and a real eyeopener. So eager to learn and engage with new people, it was a real glimpse of true community life which in some cases has been forgotten in our big prosperous cities in the West.
After spending some time at the library, we went into one of the houses where the Ayni project is really improving the quality of peoples' lives. Traditionally, they cook food over open flames inside their homes which is not only a dangerous fire hazard but also very bad for their health, especially so for the children. So one of the things Ayni does is to teach them how to build stoves out of cheap local materials; something which has immediately and directly improved the standard of living in these very primitive living conditions.
While we were in the house we could really see how similar we all are despite the huge wealth disparity. One of the children's school timetable pinned up to the straw wall while the other was sitting on a bed, which is shared with all the children in the family, doing her homework. This would be the same scene in any household pretty much anywhere in the world; sure, the conditions are lightyears apart, but it shows we are all doing the same things effectively. The children are trying to learn while the adults are working to provide for their families in order to provide the simple things we all need.
Much as we were really enjoying our time here, we still had some driving to do, so after saying our goodbyes to everyone, we headed on back to Piura to pick up the SRZero and head on south towards Chiclayo. At the university we said goodbye to our hosts, and headed back out of the city to rejoin the Pan-American Highway.
The road was, as we have become used to in Peru, absolutely perfect as it stretched its way through the desert. The landscape was spectacular with sand dunes coming right up to the road and a horizon so flat it looked like an ocean. In fact, on one occasion the desert overcame our desire to keep on pushing forward, so we stopped alongside the deserted road and went for a run in the desert. The sand was fine and soft, and it was only a matter of time before we ended up all rugby tackling each other in the sand…such fun!
A few hours later and we pulled into the local university in Chiclayo where we were able to charge up. For the first time since Mexico, the charging point they had for us had no earth which makes the case of our chargers live and is hence not safe. So we did something that we had always thought we would have to do; make our own earth! In Mexico we had wired onto a local water pipe, but with none of these available we had to get a long metal stake and drive it into the ground outside. To this we wired into our earth wire, and we were good to go!
After this we went to our hotel, dropped our bags off, and went to a restaurant with Frankie from the university. He assured us this would be some of the best chicken we would taste, so we were eager to see what was going on. Lo and behold, when we got to the restaurant, it was exactly the same as our Nandoes back in the UK, except it was called Pardoes! It was very nice actually and a delicious way to finish a very interesting and perspective-altering day!