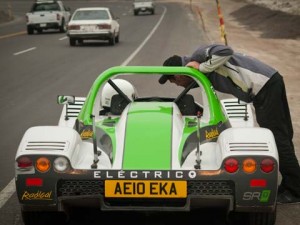 The time had finally come to leave Quito, our unintended home for the last 7 nights. After the unfortunate crashing incident, everyone had pulled together, including people we had never even met before, to get us to this morning where at 6.30am we were standing outside Fernando's Pro-mecanika shop ready with the SRZero to carry on towards Ushuaia!
In order to try our best to make up some lost time, we had done our research and had found that by going directly to the southern city of Machala rather than going to Guayaquil as initially planned, we could gain a day. The problem was that Machala is 520km away and this would be a stretch to do in one day and on one charge given the very mountainous terrain. But we were determined to make up for lost time, so how could we do it without running out of juice in the middle of the jungle somewhere?
The answer is an intermediate charge. We had done this only twice before on the trip, once on the way up to Chena Hotsprings way back in July, and one on the way to Santa Rosa in New Mexico. Basically, you have to find somewhere on your route where you can quickly charge for a couple of hours and then shoot off, and try and minimise the time you have to drive off the main road. So, on the recommendation of Alfonso, we ended up at an extremely smart Toyota dealership and workshop in the city of Ambato, around 160km from Quito, where the manager, Carlos, was waiting to greet us.
The reception we got from the staff was incredible as, working on cars all day, they were also a little car-mad! They asked a lot about the technical specifications of the car while we set it up for charging, and there was also a local TV channel there to document the event. However, the team was absolutely starving as we had missed breakfast in order to get moving so quickly, so we walked over to the local mall to grab some food.
Given the SRZero's excellent range, we were actually fairly confident that we could make the whole journey on one charge, but we didn't want to take chances. As such, it was only a small amount that we charged up with; around 20% of the total energy stored in the pack. With this complete at 12.30pm, Carlos lead us back to the main road and we continued south.
The road was smooth and often dual carriage, so the driving was fast and easy; just how we like it! The odd thing was that, despite the fact that we were told we would be descending to sea level, we were actually climbing in altitude, and the road was winding its way through ever more remote areas. We began seriously contemplating that we had taken a wrong turn as we were driving well above 3,000m! However consultation with the map showed us to be on the right route, so we continued driving whilst enjoying the wonderful weather and road.
After around an hour, we began the long decent down to sea level along an amazing road carved into the mountain face. The road conditions began getting more difficult as it narrowed to just one lane and overtaking became the only method to keep up our average speed. However, as always, there are forces at work trying to make the route just that little bit harder, and at around 3pm we were hit with a double whammy…
The weather closed in big time and then the roads became all but undrivable! Firstly, the weather; we have experienced bad weather before in the form of heavy rain, but so far we hadn't encountered cloud. At this time, and for the next few hours, we were engulfed by thick cloud that severely reduced visibility and turned bright daylight to dusk. Couple this with idiotic drivers who obviously think it's a lot safer to keep their lights off, especially when overtaking into oncoming traffic, and you have some potentially hairy situations! However, having become used to Latin American driving, all vehicles made it through with no problems.
And now for a quick rant about the roads; as I've said before, the worst thing you can have for us is nice smooth road with the occasional bad patch because it means that you are driving fast when you suddenly have to brake to avoid obstacles. This is exactly what we encountered time and time again on this journey, except the obstacles weren't potholes or rough patches, they were unmarked steps down onto the most abominable, unpaved gravel and rock surface you can imagine. Our top speed on these patches, some of which lasted for 5km or more, was never above 10mph. In fact, even approaching this speed shook the car more than we had ever experienced. Even the term "shake down testing" never envisaged so much shaking!
However, the car made it clean across on every occasion, and was able to pick up its speed. Nonetheless, these rough patches severely reduced our average speed, and it was only after a total of 13 hours of solid driving that we made it to our charging point for the night. This was a garage/workshop belonging to some racing contacts of Fernando. They very kindly let us tap into their electricity supply, and before long we had the car on charge and were driving to the hotel.
We still needed to eat, do emails and all the other whatnots, and it was only at around 12.30am that we managed to get to bed. It was an absolutely massive day, a total of 520km driven in 2 non stop stints, and it unequivocally proved that the SRZero was back! The car had performed flawlessly through some severe battering, and it lived to drive another day.
It felt really good to be able to get back on the road with a big leg completed. Racing Green Endurance really earned its name today, well, perhaps more so the first and third word than the middle! May the good progress continue!