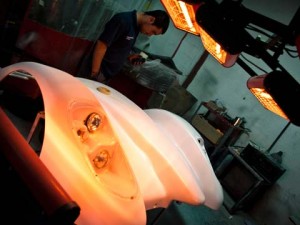 Today was another early start for the team so as to give us the most amount of time to fix the car. We thought that with a bit of luck we should be able to finish the repair jobs today, so at 8.30 we were already at Pro-mecanika rearing to go.
There were bits and pieces to fix on the car, more wear and tear than anything to do with the crash, and this occupied us until around 11.30am. During this time we also came up with a plan as to how to fix the crash box, but given the lack of machinery available to us and the time we needed on other aspects of the car, we gave the metal cutting job to a local contractor. He promised to have the job completed by 4pm. After this we were summoned to Victor's fibreglass workshop to collect our repaired bodywork and splitter, something we had eagerly been anticipating!
The results were more than astonishing; somehow he had been able to take this completely smashed up bodywork and repair it to a standard that any car owner would be proud of! The left sides of the splitter and nose were completely reconstructed, and there were no indications of the myriad cracks and tears that were seen before.
After Victor's we made a quick stop at the hardware store for more supplies followed by a lunch in the local shopping mall which was, incidentally, where we were due to display the car on that fateful Friday. After the food we headed back to the workshop to finish off the bodywork; it had to be sanded down and painted. However, the incredible helpful staff took it from us and insisted they did all the work. And so, with the car waiting to receive the crash box and bodywork, we had literally nothing to do until the crash box arrived; a very rare occurrence for RGE.
So we made use of the time to answer emails, clean out the van which had somehow morphed into an absolute pigsty after the last few days, and generally potter around the car tightening and inspecting little things. However, 4pm soon passed us by, and we had a call that it would be ready at 6pm; another 2 hours of waiting.
Then, at 6pm, we got a call saying it wouldn't be ready until 10am tomorrow…damn frustrating! With the bodywork still being painted, we had no choice but to call it a day. This was rather disappointing, but quite out of our hands at this stage. So, we left the workshop and organised with Alfonso what time to meet up later because very kindly, Alfonso's dad had invited the team out for dinner that night.
A few hours later we reconvened at a well known pizza joint in town, and had a delightful meal with Alfonso and his wife Michelle, Fernando and Maria, as well as Alfonso's parents. The conversation and company was great, and we have them to thank for helping us out so much with getting the car fixed. Thanks a lot guys!
We now look forward to tomorrow where hopefully we have more luck. As always, the old adage sticks; everything always takes longer than expected!