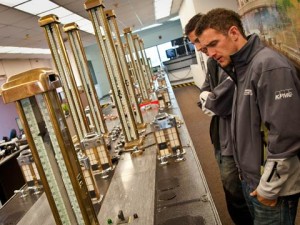 Our stay in Panama City, which consisted of 5 days, was a mixed experience of frustration, productivity and incredulity. Our first day in Panama City (Thursday) was extremely pleasant however, starting off with a press event and presentation at the brand new Panamanian Canal Authority (ACP) building first thing in the morning. Nik and Clemens gave a very well received address, which was warmly preceded by Richard Austin, the British Ambassador to Panama, as well as several other ranking members of the ACP which were kindly hosting the event.
At the end of the presentation, the press were invited out to the canal side where the SRZero was parked. Despite the rain, the crowd kept on growing in size, and even included a whole platoon of young naval cadets eager to have photos taken with the car and team! Plenty of media interviews followed, and it was perhaps the most enjoyable place to have interviews on the trip so far as the ships silently made their way through the giant Miraflores locks of the Panama Canal, located mere metres behind us. What a location!
As the crowd slowly trickled away, something that the team had been waiting for for a really long time was just about to be begin. Back in October 2009, we had visited the Panamanian Ambassador in London, and there he promised that he would organise for us a private tour of the famous Panama Canal. And the Ambassador kept to his word, for just as we had finished with our press interviews, Carlos Beliz, one of the canal's guides, showed up to give us a private behind the scenes tour which no tourist ever gets to see!
Taking us through a locked fence such that the edge of the canal was literally right beneath our feet, he started to explain about the history of the place and why Panama was so ideally located for such a canal. Aside from the fact that it is obviously the thinnest place to cross between the Atlantic and Pacific, rainfall, topography and lithology all play crucial roles in allowing the canal to be located here. Our talk on the side of the canal was short though because what he really wanted to show us was some ships passing through the locks, and the best place to see this was from the control centre itself!
The control centre, an old building dating back to the canal's construction in 1914, is located on the canal's centreline and between the two locks. The only way to get there is via a very thin walkway actually on the top if the canal gates! This is where we walked, a route strictly off limits for tourists, and it was absolutely breathtaking! On our left we had the water level almost at foot level, while on the right, separated by only 7ft (the thickness of the lock gates), we had the water level nearly 20m metres below us. We all gaped in awe as we walked across, being so close to one of the largest engineering feats of all time was an exhilarating experience!
Once making our way up to the control centre, we observed the 8 minute cycle of allowing ships into the lower lock, raising the water level, and allowing them to pass through. It is quite mesmerising to watch actually, and if you look closely you are able to see interesting hints as to how the canal functions on a larger scale. For example, when they open the gates into the lock containing sea water, you can see turbulence in the water; an indication that fresh water is mixing with salt water, this is because the whole canal is a gravity fed system, and fresh water from the reservoir (Lake Gatún) is slowly lost to the sea as the water passes down through the lock system. A good explanation of how the canal works can be found here: http://en.wikipedia.org/wiki/Panama_Canal_Locks
After observing this, we were shown a whole bunch of pictures of how the canal works and how it was constructed. This was no less interesting, but it was all leading up to the most anticipated point of the tour; the control room. Amazingly, up until 2007, they canal was still controlled by the same electromechanical computer that was developed and installed specifically for the canal in 1913…imagine a commuter built today lasting that long! It was huge; around 15 metres long with a whole host of dials, levers, switches and lights, and all ornately made out of brass and chrome. This, along with the subsurface layer of gizmos controlled the entire lock system, and also, through entirely mechanical means, prevented any mistakes in the opening and closing of the locks to be made. I have yet to research how this incredible machine works, but rest assured I will because it was absolutely fascinating!
With time rapidly ticking on, we had to conclude the tour, and after thanking Carlos profusely, we picked up the SRZero from it's canal side parking spot, and we headed over for a lunch at the KPMG offices in downtown Panama City. It was a fantastic occasion to meet the partners from a number of different countries as there was a regional meeting going on with KPMG employees from all over Latin America. The food, conversation and company were all excellent!
After lunch we headed down to the car for photos with pretty much all of the 250 local employees, and with the facial muscles needed to smile completely worn out after all the photos, we headed back upstairs to give a presentation to a packed KPMG audience. Some very commercially oriented questions were asked, as you may expect from such an audience, and we stayed there chatting until around 5pm.
After this, we braved the absolutely wild Panama City traffic in order to make it across town to the British Ambassador's residence for a cocktail reception. But before doing so, we made a stop at Compulab, National Instruments local distributor here, where we had more photos with the car and the employees. Incidentally, Compulab very kindly became the second sponsor of the trip as they decided to give as a new laptop to replace our ageing and faltering one. Finally we can run the software needed to monitor the car without the laptop crashing! Many thanks guys!
With photos complete, we spent another 20 minutes driving over the Ambassador's residence, located in a beautiful and secluded condominium. 7pm brought the start of a cocktail reception which the Ambassador had kindly agreed to host at his house. A number of influential people were invited to see the car and meet the team, and along with some absolutely exquisite canapes, we passed the night in exceptional style! And then, on the recommendation of several of the guests, we headed to Calle Uruguay, the party street in Panama City, to let our hair down a bit!
Friday:
Despite going out the night before, we had an early start with some activities that the team were looking forward to. Our first appointment was at the Science Museum where we met, literally, hundreds of school kids who were super eager to learn about the car and how it works. I have to say that I was incredibly impressed with the level of their knowledge and their fluency in English despite being so young. Many of them were frantically making notes on what we were saying; the enthusiasm in their eyes was so evident. But to prove that the car wasn't just a pretty piece of fibreglass, Toby did some high octane racing around the parking lot, and with each squeal of the tyres the kids got more and more excited! It was a wonderful feeling to inspire such interest in children with a vast amount of opportunity ahead of them if they work hard and believe in themselves.
Finally, it was time for us to become children again as we were invited into the hands-on Science Museum to have a play with the exhibits. To say we rushed around like excited 5 year olds on a sugar high would be a gross understatement; we all regressed by about 2 decades and thoroughly enjoyed ourselves! But as always, time was running short, and we had to make it to our next appointment. In addition, we had just heard from Clemens that we would have to display the vehicles at a police inspection centre before we shipped the cars, and this had to be done today at 12.30!
So we dashed over to the technical university where we met hundreds more students, this time much older, in fact some of them were older than us! Unfortunately we were pushed for time so we quickly demonstrated the car to them with yet more tyre squeals, and we left in order to get to the police station on time.
And this is where the frustrating part of our stay in Panama begins; it took us over 5 hours of going backwards and forwards between myriad different government buildings in order to get the right paperwork. We were confronted by super unfriendly and unhelpful bureaucrats that wanted nothing more than to relax in their offices and wait it out until the end of the day. Going into detail of the frustration will only serve to shorten my life expectancy, so I shan't go into it now, but fortunately we managed to get the right documents filled in by the end of the day. With all this done, we were now allowed to take the vehicles to the port of Colón, around 70km away, the next morning in order to put it on the ship. So with another very early start planned for the next morning, we headed back to the hotel for an early night.
Saturday:
Question: Who is mad enough to wake up at 5.30am on a Saturday morning?
Answer: We are!
By 6am we were all assembled in the hotel lobby, and with ourselves loaded up in the van and on Chris's bike, we headed over to Clive's house (Clive is the Consul of the a British Embassy) to pick up the SRZero as it was stored there over night. We met our police escort at Clive's house, and from here we began the fast drive over to Colón. Fast is actually an understatement; we drove at 100mph on their brand new freeway! It was a beautiful drive through Panama's interior, and a fantastic test for the car as it had never been driven for so long at that speed. It was Clemens who was lucky enough to drive this leg, short though it was!
Arriving at the port brought on today's dose of frustration as after filling in yet more paperwork, we were forced to just sit there and wait for nearly 6 hours until we were allowed to drive the cars through and load them up into the container. The annoying part was that our container was sitting there all this time, and all we were waiting for was for someone to get off their behind and escort us to the container! But it was a Saturday, and it was hot, so of course this took a very long time to happen. But finally, we did get to the container, and the cars and bike were very professionally strapped down into the 40ft box of metal. I have to profess a slight tinge of sadness in seeing the SRZero drive into the container, for when the doors closed it marked the beginning of the longest period that the team hasn't seen the car in about 9 months! At the same time though, we were very pleased to have finally organised all the shipping between here and Colombia, and we were looking forward to relaxing for the next couple of days until we and the car arrived in Colombia.
So with everything loaded up, we headed back to Panama City. During all this time, Daniel from Compulab and Clive from the embassy were so incredibly helpful that we decided to take them out for dinner that night. We met at a Lebanese restaurant (yes, I thought the same thing too…Lebanese in Panama?!?) but the food and atmosphere was absolutely incredible. Stuffed to the brim and after being entertained by some very talented belly dancers, we headed out for the night to do some dancing ourselves!
Sunday-Monday:
The next 2 days were fairly nondescript as this is when the productive part of our stay in Panama began. With the car off on a ship somewhere (or so we thought) we were able to get down to some hard graft in organising the legs through South America. We have been thrilled with the success of the project so far, and the documentary film is coming along extremely well, but we wanted to really escalate the project and so this required a lot of research and organising with our contacts down south. In addition, we had to book our flights and organise hotels etc for our stay in Cartagena which is where we would have to stay while we waited for the cars to arrive.
You may be wondering why I said that we thought the cars were on a ship. Yes, this is what we were told until we got a call saying that no, it wasn't on the ship for some reason, and it would have to sail on the next ship nearly a week later! This was bad as it gave us a delay of a week and meant that we would be spending a lot of time and money in one place when we could have actually been driving south and completing our trip. Try as we might though, there was no way the car was getting here before the week beginning September 13th, so we prepared ourselves for a rather lengthy stay in Cartagena. However, from our research it appeared that this is actually a very beautiful city with a great deal of history, so as Tuesday morning approached, we were very much looking forward to making the most out of our week off. At least we could recover somewhat from the last 2 months of gruelling driving and organisation!