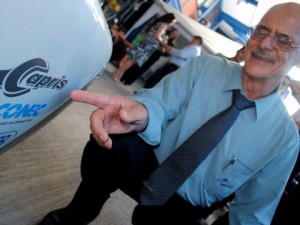 It would seem that the intensive routine of going to bed late and getting up early has become embedded in our subconsciousness because even after a hideously late night of San Josean nightlife, we were all up, fresh and alert after just 5 hours of sleep…a bizarre but welcome side effect of such a time consuming trip! Anyway, today was Sunday and we were all looking forward to our first real rest day of the trip since Vancouver where we had absolutely nothing planned. As it turned out, we did of course end up working on the project as it's just not something you can simply switch off from, but it was still a great day to reenergise.
Sunday consisted of a massive buffet lunch which filled us up for the rest of the day, some haircuts as some of us were beginning to look a little mangy, and some general logistics and PR maintenance. Toby also went over to the Ambassador's Residence to put the car on charge, but other than that, there was very little else going on until the evening where we went out to celebrate Nik's birthday (even though it was actually on Monday). We did however have a early start planned for the next day's events, so we called it an earlyish night and headed to bed.
With our first press event of the day starting at 8.30am, we left the hotel at 7am in order to drive over to the Ambassador's home to pick up the SRZero. In doing so, we met Tom Kennedy, the British Ambassador to Costa Rica, where we had a quick chat about the project and the day's event which he had helped organize. As you would expect from an upstanding member of Britain's foreign service, he was a really great guy, and it was fantastic to see his evident enthusiasm in the project.
With the car now charged up, we headed over to University Veritas for our first event of the day. The first half saw the car outside and press, students, and staff all invited to come along and ask questions. We took the rear bodywork off the car to show interested individuals, and it was yet another fantastic opportunity to informally inform people of what we're up to and how well an electric vehicle can really perform.
After around an hour or so, we were invited into the lecture hall where we gave a presentation on the project, with Andy outlining the benefits of electric vehicles, Toby going over the engineering aspects of the car, and myself telling stories from the trip so far. The reception we got, especially to the video we showed at the end was exceptional, and the Q&A session afterwards showed a real interest in the subject. Our presentation was preceded by a welcoming speech from the Ambassador as well as a short presentation for Esteban, a student at the university, about Costa Rica's relationship with electric vehicles to date. It was really great fun presenting to this audience, and we thank the University Veritas for giving such a great platform to share the project.
Some press interviews followed the presentation, and amazingly we had a queue of people waiting for us to autograph pictures of ourselves! Unfortunately though, we had to leave quite quickly as the Ambassador had received word that the Minister for Energy, Environment and Telecommunications had suddenly freed up some time for us, and we were urgently requested at the Ministry. Exciting times!
A 20 minute drive later we were outside the Ministry with yet more press assembled, and we were eagerly anticipating meeting the Minister. Without much delay, he came out of the building and we had around an hour to tell him about the project, and to question him on Costa Rica's extensive renewable energy drive (to be carbon neutral by 2021). He was also able to do a piece to camera for the documentary series that Claudio is filming, and it was a very enjoyable experience all around. The only problem now was that we were late for our next event, so with a quick goodbye, we pushed on once again!
Our next event was at a company called Capris Engineering who are also the local distributors for National Instruments. They had gone to massive lengths to ensure a huge media turnout for the day including advertisements in the local newspapers, and free posters that were being handed out to anyone and everyone! These posters, incidentally, were what we were signing our autographs on earlier that day!
Anyway, at Capris we had the opportunity to give another presentation and to demonstrate the car to the audience and TV crews. It was a fantastically successful event with really a enthusiastic audience, however the highlight of the day was yet to come; Toby had been quietly talking with the CEO of Capris, and he was so in love with the project that he instantly sponsored us $5,000 dollars on the spot! What an amazing turn of events! He immediately got a sticker of their logo, and there in front of the audience and press, we stuck it onto the car. Furthermore, we also needed a $200 torque wrench (ours had been completely screwed in Managua while we were giving the wheel nuts a quick tighten) and instead of making us pay for it, he graciously put it on his private account! Incredible generosity, and we are proud to have Capris as our latest sponsor, and the first new sponsor to join the project while we're actually on the trip.
However, we had yet another event to go to, this time at one of the city's main parks, so very quickly we had to set off for this. Organising this event, and indeed coordinating much of our stay in Costa Rica, was Dr. Hugolino, an expat from Venezuela and an Imperial alumni. Right now I would like to thank Dr. Hugolino for all his continued help and support, and we look forward to discussing with him further the option of getting the car out to Venezuela at the end of the trip!
But back to the present, we parked the car outside the park, and some local visitors and press came along to see it. As we were so late for this particular event owing to the unforeseen meeting with the Minister, many of the people who had convened to see the car were no longer there. The Consul for Venezuela was there however, and he spent a long time trying to convince us to come to Venezuela and drive there instead of certain other countries! It was a very tempting offer, but for now we are sticking with our plan of driving the Pan-American Highway!
At this point, it was nearly dark and the day's events had come to a close. It had been a really successful day, and I would like to publicly thank KPMG, Her Majesty's Embassy in Cost Rica (especially Eric for driving us around everywhere, and Tom for spending the day with us), Dr. Hugolino, and especially Capris for becoming our latest sponsor!
After the event, the car went back to the Ambassador's house for a top up charge, after which we headed back to the hotel, had a drink with the Ambassador, had a delicious Italian dinner at one of the hotel's restaurants, and then hit the sack. Tomorrow was going to be a very long day with a 5am start…we needed all the sleep we can get!