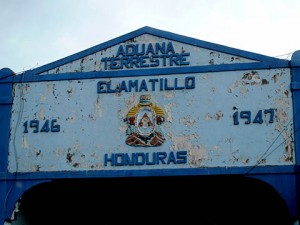 Today it was unfortunate that we had to leave the great El Salvadorian hospitality, but after a day's delay we were itching to hit the road and continue our journey along the one and only Pan-American Highway! And so with our armed police escort back with us, we drove out of San Salvador in just the same way as we came in; fast, and disobeying every traffic law in existence! But we were out of the city fast and soon we were on silky smooth road south.
The drive was quick and largely uneventful, the weather was good, and we soon reached the Honduran border. I can sum up the entire process of leaving El Salvador and entering Honduras in one word; unpleasant. Not only did we have to negotiate the normal paperwork, we also had extremely unhelpful border guards who seemed intent on keeping as there for as long as possible. All we could do for much of the time was just wait, and just as darkness was approaching, they deemed it appropriate to let us through. We were driving in the dark again…great!
However, just on the other side of the border, we met Juan who is the manager if the Lufassa power plant; a large heavy oil burning power station providing some 33% of the Honduran electricity demand. Anyway, Juan kindly showed us the way to Lufassa which is where we would be spending the night. Upon arrival, we could make out some large and impressive-looking equipment through the dark, but the tour was reserved for the next day, and for now we had car charging and dinner as priorities!
With the car now on charge in an impressive looking workshop, we drove over to the local seafood restaurant where we feasted on shrimp and other delicacies from the ocean. The open restaurant looking out onto the river estuary was a perfect introduction to Honduras, and along with Juan and other members of the power plant management, we happily passed the night away.
After dinner, we were shown to our quarters at the power station. As a complete first, we actually slept in the crew quarters of the power station, and we were given a huge 3 bedroom apartment replete with kitchen all to ourselves! What fantastic hospitality! We went to bed shortly after wondering what was lying in store for us on the tour the following morning…