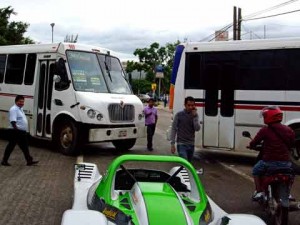 With the delay caused by the late arrival of the shock absorbers, we had very little time left to complete our schedule in Mexico and to get to Guatemala in time for all our scheduled press events. So with this in mind, we convened in the hotel's lobby at 6am ready to drive the short distance to the KPMG office, pick up the car, and leave at 7am. It was a demanding timeframe, but such was the team's resolve to get back on schedule and keep to our promises made to our sponsors, supporters, and the media.
As planned, we left at exactly 7am and started the 292 mile journey south to Oaxaca, the culinary capital of Mexico apparently. It is also highly praised for its beautiful town centre and traditional architecture, so we were glad that the early start would afford us a daylight viewing of the attractions. Unexpectedly, we made it out of MC very quickly as we must of been before the rush hour, and we were soon heading south on the Pan-American Highway; the first time we were on the official route since Canada (as the US has no official Pan-Am designation, and we were advised against this road in the northern section of Mexico.)
Despite the cold and foggy weather on the high mountain roads we were travelling on, we were making fantastic progress, and the car was driving superbly. Quite suddenly, the fog dissipated and the sun illuminated the countryside through which we were driving. What we saw around us was a different landscape to anything we had seen on the trip so far. We passed through fields of giant cacti, and across bridges spanning deep gorges. The road twisted and turned up steep mountains, reaching a height of over 3,000m, and driving so close to such a shear drop was exhilarating. In the distance, vast mountains covered in lush sub-tropic vegetation provided their peaks for our horizon, and the smooth tarmac road stretched ahead. The dramatic scenery provided some fantastic shots for the documentary filming, and even after spending a lot of time doing this, we were still early when we came to a halt around 5km out from our hotel in Oaxaca. The time was 4pm.
You may, at this point, wonder why a) we came to a halt, and b) why I mention the time. Well, the answer to the first point is as follows: All the cars around us had stopped, and people were walking out of their cars, and some cars were turning back round from the way they had come. The reason for this quickly became clear as we saw 4 buses blocking the road ahead in a deliberate road blockade. Our first thought was that we had inadvertently driven into a drug cartel shootout where roads are frequently blocked. We had been advised that this may happen, and that if it should, we should just remain put until everything is broken up.
However, upon further investigation, we found out the reason for the blockade. The city's bus drivers had decided that they should charge 7 pesos (35 pence) per bus journey, but the public had rejected that and said they wanted to keep the 4 peso (20 pence) tariff. So, to assure the public that the bus drivers were not going to accept anything less, they decided to blockade all the roads into the city. We waited for half an hour before realising that we weren't going to go anywhere unless we made something happen.
So, with his best Spanish at hand, Toby got out of the car and went forward to the blockade to see what he could wangle. After a quick discussion with the local leader, and upon him seeing the SRZero, Toby managed to persuade him to let us pass. This was fantastic news as we weren't delayed for too long. We were ushered to the front of the queue, the passes parted just enough to let us through, and off we went into the clear road ahead.
Except, a few hundred metres on, it was blocked again in the exact same way. We repeated the procedure, and for the second time, we were allowed to pass without waiting too long. But upon driving a few hundred metres more and coming to a 3rd blockade, we begun wondering how many more there were to come. We tried the same tactic as before, but this time the bus drivers weren't budging. Apparently no matter how sexy an electric car you showed them, they were still intent on getting their 7 pesos per bus fare!
We were getting stuck here for s long time, and at about 7pm it started raining hard. The clouds descended and the streets began flooding as the torrent commenced. And this is where peoples' tempers started to fray. Some members of the public began shouting and screaming and jumping on somebody's pickup, and what was a docile and patient crowd a few minutes earlier, turned into an angry mass of people who could become violent at any time. With us caught in the middle, and with the SRZero standing out like a sore thumb, we were a little vulnerable!
But the bus drivers did not want to get in a fight, and upon seeing an angry mob rapidly approaching them, they decided it prudent to get the buses out of the way as quickly as possible. And so we proceeded past 4 more road blocks; the rain was making things very difficult, visibility was poor, and the traffic was chaotic. One way systems and road works added to the misery, and after circumnavigating more road blocks that hadn't heard about the break up yet, we finally reached the hotel at 9pm, tired, frustrated and angry that the last 5km had taken us 5 hours to drive! On top of this, we were hungry and tired and the whole evening had certainly out the team under strain. But we had made it to the hotel, and all we had to do now was get the car on charge, and then eat and relax. If only it had been that simple…
When booking the hotel, I made sure that they would have a place for us to charge up. There would be no problems they assured me, and upon arriving and telling them that the electric car was here, they ushered us to a covered garage where we could charge up. Toby and Nik took a look at the plugs they expected us to charge off, and they were much less than impressed. The wiring looked a little dangerous, and the plugs, despite being 3-pinned, were not actually grounded. As our chargers are cased in metal, the plugs we plug them into have to be grounded in order to stop people from electrocuting themselves. But there were no ground wires, so what were we to do?
In typical RGE fashion, we just decided to rewire their wiring system, and we wired a ground into the plugs we were using. A ground test showed that our plan had worked, and so we plugged in and cranked up the juice. For a few happy seconds, it looked like everything was fine and the car wad charging normally. However, the happiness soon ended as all the lights suddenly went out and the chargers turned off. Despite the circuit breaker saying it was amply rated, it had tripped nonetheless, and we were now without power. Normally, this wouldn't be too much of a problem as you would simply go over to the circuit breaker, reset it, and use the chargers at a lower power. Easy, right?
Wrong. It turned out that the circuit breaker was in a locked room, and that it wouldn't be opened until 9am the next day. This was seriously annoying as it meant that we would not be able to charge overnight. We had to find another place to charge, and fortunately, the hotel owned another garage directly across the street which they offered us to use. Unfortunately, we could only charge off a quarter of the power we would have been able to charge off, and this would mean that we would not be charged for our leg the following day. But by now it was 1am and we had no other choice, so we plugged it into the limited power supply, and we headed off to bed. We would leave the problem of fast charging the car to the next day when we would all be in a much better state to get the car charged!
It was a very mixed and long day, with fantastic weather and beautiful scenery for a few hours, but with the second half of the day providing a frustrating but very interesting insight into an aspect of Latin American culture, namely if you want to raise bus prices, park your buses in the middle of the street and don't let anyone into the city!