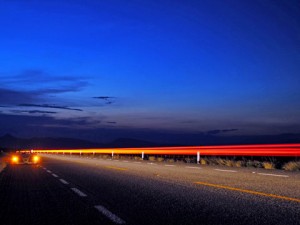 Normally I start each blog by mentioning how we woke up, whether the car was charged, and what the weather was like. But on the night leading up to our crossing into Mexico, several of us weren't sleeping in the first place such was the adrenaline coursing through our veins, and so we got out of bed at 5.30am rather than waking up. Yes the weather was fine, and yes the car was charged, but it was the border just a mile from our hotel, and the volatile region beyond that were most occupying our thoughts. We had heard so many danger warnings about the 100 or so miles beyond the US-Mexican border, with some people pleading with us not to go, and one kind lady actually praying for us…it was the most nervous we had been on the trip so far.
So, as planned we turned up at the border early, being the first 2 cars of the day to cross into Mexico. Before we could pass through though, we had to get our Carnet signed. This document is vital to the continued progress of the trip, and it basically shows the Canadian and US authorities that we have taken out of the country all the components we have brought in. The border guard on the US side told us to pass through the border, park up, and go into the US Customs office to get it signed. If only it were this simple…
In order to get into the customs office, we had to pass back into the US, and despite having been in the country mere minutes before, we had to wait for over an hour before we were let back in. And on the other side, we were told that we had to go to an altogether different border crossing in order to sign the Carnet…frustration!
Finding the other border about a mile away was easy enough, but it proved very difficult to find our way to the mysterious hut where we were to get the Carnet signed. However, after half an hour of getting incorrect directions after incorrect directions, we finally found a small building where they would sign it. Clemens disappeared inside and emerged over an hour later with a signed Carnet! Apparently it had taken a great deal of persuading to convince the US authorities that we weren't doing anything illegal, but finally all the bureaucracy on the US side was over, and we were quickly ushered through the border and into no-mans land!
No-mans land consisted of a bridge crossing the turbulent Rio Grande, and half way across a plaque demarked the official border between the two countries. With the SRZero leading the way, RGE crossed into Mexico! Beyond the bridge lay the Mexican border post, and contrary to what we were expecting, passing through was a very laid back affair. For starters, no one seemed very interested in seeing our passports, and we didn't even have to take them out! The border guards, who were all ladies, were more interested in hearing about our project and showing us their very friendly Labrador sniffer dog, which I have to confess was the most fun I have ever had at a border!
But now we were officially in Mexico and we had to have all eyes on the look out. Some of the stories we had heard in this region were truly shocking, and we were keen to drive the 280 miles down to Saltillo as quickly as possible, thereby limiting the time spent in the region. It became clear very quickly that there were some people who wanted to keep us here for a little longer if possible…
As soon as we were out of the border post, a car started chasing us. Weaving in and out of the traffic, they quickly caught up and overtook us before slowing down and trying to force us to the side of the road. This was a fairly harrowing experience until we read a sticker on their car; it appeared that they were in fact from a TV channel, and not part of dome criminal gang intent on nicking our shiny electric car! We slowed down and went into a lay-by whereby they jumped out of the car and explained how excited they were to see the car, and if they could have an interview. What a welcome to Mexico!
But we had clearly attracted some attention outside of the media, and seconds after stopping 3 police cars screeched to a halt. After checking our documents, which they were satisfied were in order, they allowed us to proceed with the interview while looking on with keen interest. With the interview over, we continued southwards, accompanied by a policeman in his car who took it upon himself to stop the traffic at red lights and wave us through…this was VIP treatment at its finest!
However, the policeman soon left, and we found ourselves alone on the deserted highway. But not for long, as over the next hour or so we got stopped 3 more times by more police! They were more curious than anything else, and in common with our previous run ins with the law, we were treated professionally and certainly very friendlily.
We still had one thing left to do before we could legally drive further than 150km from the border, and this was to get a temporary vehicle permit for the support van. We were advised we could do this at kilometre post 53 on highway 57, and so with the day's previous delays behind us, we sped there post haste.
We found the building with ease, but upon entering we were blasted with an onslaught of pointless paperwork, photocopying, showing of passports, and getting pieces of paper stamped. We spent 2 hours going from desk to desk and person to person, despite doing the same process for the SRZero a few days earlier in Austin where it only took around 5 minutes! We finally got the blue slip we were after, and we were free to continue our journey after a very frustrating time. By now we were praying for no more delays as we were keen to get to Saltillo before nightfall.
The scenery turned from dusty wasteland into the most incredible vista imaginable. Low level shrubs spread out around us in a vast plain, with tall mountains in the distance. No human influence except the road could be seen for quite some time until we came to a small town where we stopped for a delicious authentic Mexican meal. The proprietor was very impressed with the car and what we are trying to achieve with the project, and he gave us a lot of really helpful tips and advice. However, dark clouds were rolling off the mountains, and we were advised that if we wanted to miss the rain, we better get moving…and so we did!
After just a few more miles, we were confronted by our first major physical challenge. Due to Hurricane Alex which had passed through a few weeks ago causing immense damage to the local infrastructure, the main highway was in a state of major disrepair. One side of the road was completely closed, and the other side of the road was being used to take both traffic directions. Upon pulling up at the diversion, we were told by a warden that there was no way we would be able to cross the next few miles with the SRZero. With this advice and the fact that we had a highly bodged shock absorber on our rear left suspension, we turned off the road into a petrol station to have a look at our options.
Looking at the map, if we went back up the highway for a few miles, there was a road which went round the damaged area we were warned about, but it would make the route many miles longer, and this is something we didn't want to risk given the fact that we were already doing a long leg. So we decided to ask a few locals, and as usual, we got a 50:50 response; 2 reckoned we could just about make it, while 2 others were firmly in agreement that we would not be able to pass.
While we didn't doubt that the road ahead would be in bad shape, we also had the memory of the SRZero taking on some pretty horrific roads in Alaska and Canada, and on all them it had survived admirably. So we decided to risk it, and a few minutes later we were at the traffic warden who had initially warned us about the road. He shook his head in what may have been a sign of disbelief, and he waved us through.
A few hundred meters on, the road did indeed get bad! Potholes and cracks in the road abounded, and it was only with Toby's skilful driving that he managed to navigate around these obstacles in the SRZero. Upon crossing a bridge, or what remained of it, we could see the full extent of the hurricane's damage. The other side of the bridge had completely collapsed, and the fields all around were waterlogged with many trees completely flattened or uprooted. But despite the warnings, the SRZero made it through without grounding out, and we emerged a few miles later onto the tollroad's silky smooth surface. In fact, during the whole day, this was the only region of bad road; the rest was very good and on many occasions rivalling what we have in Europe and the US.
We were quickly into the Mexican wilderness again, with a long road cutting through the scrublands and weaving its way through the mountains. It was some of the most beautiful scenery we had yet come across, and was entirely different to what we were expecting. The team was in high spirits as the car effortlessly glided down the smooth road to Saltillo as the sun began to inch towards the horizon. But out in the middle of nowhere, disaster struck again…
It was the right hand shock absorber this time, and it had failed in the exact same place as it had done 2 days before. It completely underlined the team's theory of it being caused by a fatigue failure rather than a single overloading, as both components had failed at almost the exact same mileage. But unlike the first failure back in the US, upon inspecting the damaged suspension it had become clear that the spring and spring cap (used to compress the spring against the top of the damper) had exited the vehicle. While we did have a spare spring, we did not have a spare spring cap, and so we were faced with multiple problems.
With the light slowly fading, we decided on a course of action. We would use the remaining light left in the day to scour the roadside for the spring and cap, after which we would split, with some of us staying with the car, and the rest racing into town in the support vehicle to try and find a solution to the broken shock absorber (please note that the terms "damper" and "shock absorber" can be used interchangeably).
We each ploughed our own path through the roadside scrubland, sweeping our eyes across the ground for any sign of the black spring and cap. Apparently this was also a prime spot to find some snakes, so we were on the look out for them too, albeit for a different reason! After around half an hour of searching, eagle-eyed Andy spotted the spring in some deep grass a hundred metres back from where we stopped the car, and a little later Nik spotted the spring cap too…another disaster averted!
As planned, we split up with myself, Andy and Jonathan (our second cameraman) staying with the car, and the rest heading into Saltillo around 40km away. We took the opportunity to go a few metres off the road, which is much safer than standing on the roadside, where we found a comfortable patch of ground to sit on. Jonathan whipped out his emergency pack of sweets, which we happily feasted upon while the local mosquitos and fire ants quietly took similar pleasure on our legs and arms. They were merciless, and we all had the proof the following morning as our legs and arms swelled with huge insect bites….dammit!
Anyway, we did our best to amuse ourselves while waiting for the others. This included trying out some long exposure shots on the camera, writing blogs, and doing some general filming. Once we had exhausted these activities, we got chatting about all manner of things while the din of grasshoppers and other animals of the night increased around us. It was actually quite a fun experience; certainly one of a kind! It is doubtful however, if any of us would want to repeat it again!
Meanwhile, Clemens, Toby, Nik and Claudio had made it to Saltillo. As expected, 9pm was not the greatest of times to get a broken shock absorber fixed, but we needed to get the car into Saltillo somehow. And this, my friends, is where we did something we never wanted to do. We had always planned to drive every millimetre from Alaska down to Argentina, and even on the 2 occasions where we tow-charged, we still always towed back to the same place we started from before continuing our journey. But at this point, we had run out of options. We could not leave the car out on the road overnight, and we had only 2 days to make it to Mexico City in order to be in time for our press day with KPMG on Friday at 8am. So we called a tow truck and led him back to the car…double dammit!
The tow truck arrived along with the support vehicle, and we quickly had the crippled SRZero loaded up onto its back. I should point out that despite the right side failing catastrophically (engineering term for failing very quickly) the left side which had been fixed 2 days earlier was holding up very well; a further indication of fatigue failure.
With the car safely strapped down, we proceeded towards Saltillo and our hotel on its northern edge. After around 40 minutes, we arrived at the hotel, paid the tow truck driver, and set the car up to charge. After all this, it was 2am before we got to bed, and even before our heads had hit the pillow, we slipped into a delightful unconsciousness.
The important thing was that we had made it through the violent region in Mexico's northern provinces, and despite everyones' warnings, we had only been met with kind and friendly people.
What a day!